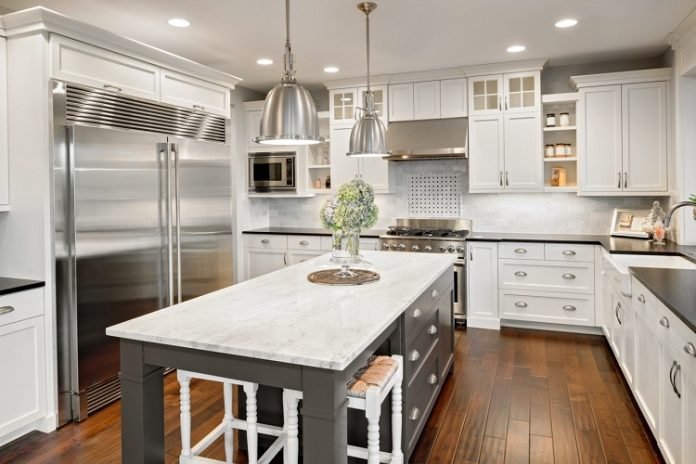 Last Updated on July 1, 2023 by
Did you know that home remodeling is booming? Since people are spending more time at home, they have been motivated to do renovations. It's no surprise that one of the top projects has been kitchens. Are you inspired by all of the home improvement projects out there and are thinking of redoing your kitchen? It's important to decide how you want your space to look and function before making any big decisions. Check out this handy guide about the many different types of kitchen layouts that exist today.
Galley
If you have a narrow home, a galley kitchen is an ideal layout in order to make the most of a tiny space. It has two parallel rows of countertops with space in between for traffic. It's perfect for small homes and kitchens that don't have a lot of room.
One-Wall
One-wall kitchens with floating shelves have been the trend du jour for some time now. This minimalist style puts the kitchen on one wall and is usually accompanied by a kitchen island to finish the look.
L-shaped
One of the most popular designs for residential kitchens today is the L-shaped kitchen. It offers workspaces that can accommodate two people with its perpendicular countertops. This is ideal for couples that like to cook together or those who love to have space for entertaining while in the kitchen.
U-Shaped
A u-shaped kitchen is just like it sounds, with the countertops forming a u-shape that offers lots of room for crafting meals. You can design it with your lifestyle and kitchen ergonomics in mind.
Island Focused
Another lovely layout is one that is focused on an island in the middle of the kitchen. Not only does an island make the space more functional by giving more workspace, but it can also become a focal point. You can give it a unique look with a butcher block countertop like the ones found at https://www.foreverjointtops.com/order.php online.
Unconventional Types of Kitchen Layouts
When doing a home kitchen remodel, you can think outside of the box with an unconventional design. You can make a large window the backdrop of your kitchen, or make the cabinets blend into the walls for a futurist "concealed kitchen" design. Or play with shapes and have different geometric ones for your kitchen island.
Ready To Build Your Dream Kitchen?
Now that you've learned all about the different types of kitchen layouts, you can plan your dream kitchen for your next home renovation project. Whether you go for a modern look with a one-wall kitchen and concealed cabinets or a traditional u-shape that offers lots of space for cooking, you can find the best match for you. And it's easy to make the kitchen reflect your style with touches like a butcher block counter, or sleek cabinets in a trendy color.
Did you find this article useful? If so, check out the rest of this site for more helpful tips.
Apart from that, if you are interested to know about Best Countertops For Your Kitchen then visit our Home Improvement category.