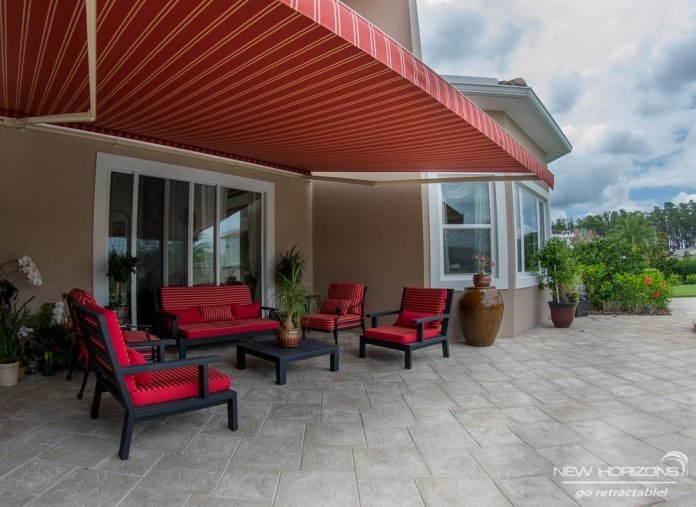 Last Updated on January 15, 2023 by Faiza Murtaza
Retractable awnings are outdoor structures that provide protection from the sun, wind, and rain. They can even be used to cover an entryway or patio area. There are different types of retractable awning fabrics available on the market today, depending on the intended usage in harsh weather conditions. If you're still on the fence about installing retractable awnings, here are some lesser known benefits of getting retractable awnings.
Lesser Known Benefits of Getting Retractable Awnings
Retractable Awnings Will Protect Upholstery and Flooring
Retractable awnings will protect your upholstery, carpeting, and flooring from sun damage. These awnings are great for protecting your indoor spaces, while still allowing plenty of natural sunlight into the room.
Not only does this mean that retractable awnings will protect your stuff, but it also means that you'll be investing in something that will help save you money down the road. Harsh weather can do quite the damage when outdoor upholstery and flooring are left unprotected.
Retractable Awnings Can Be Used to Make an Outdoor Space
Retractable awnings can be used to create an outdoor space. By covering your patio or deck, retractable awnings will create the perfect place to enjoy the outdoors and host guests. There are even options for adding ceiling coverage to make it feel like you're sitting in a room with four walls.
With the retractable awning, you can close up your outdoor room when it's not in use. This means that you'll save on energy costs by closing off an area of your home during inclement weather conditions.
Retractable Awnings Are Great for Hot Climates
Retractable awnings are great for hot climates. It's easy to get overwhelmed by all of the different types of retractable awning fabrics available, but remember that they are designed to protect you from harsh weather conditions. They can even provide shade when it gets too sunny outside. Retractable awnings are great for hot climates because they provide protection from the sun without increasing energy costs. 
Retractable Awnings Can Be Used to Protect Pets and Plants
Retractable awnings can be used to protect pets and plants by providing shade in your backyard. This is perfect if you have smaller animals that need shelter from direct sunlight or larger pets that enjoy being outside during warm weather but don't do well in extreme heat.
You'll also find retractable shades useful when growing fruits, vegetables, and flowers in your garden since these types of crops tend to wilt quickly under intense sunlight conditions. If everything else has failed as you've tried to grow your plants successfully, getting a retractable awning may just be the solution you've been looking for.
Retractable Awnings Make Houses Look Great
Retractable awnings make houses look great because they are aesthetically pleasing. This is one of the lesser known benefits of retractable awnings since most homeowners don't realize how much it can improve their home's looks until after getting them installed.
There are different options available for adding shade to your deck or patio depending on its size, shape, and orientation. You also have the option of installing soffit vents if you want to use air conditioning with your sun protection system during hot weather conditions while still protecting valuable outdoor spaces from harmful UV rays.
Retractable awnings are highly customizable, allowing you to create the perfect shade solution for your home. No matter what type of retractable awning fabric or color you choose, it'll always make houses look great.
Retractable Awnings Can be Retracted When Needed
Retractable awnings can be retracted when needed and this is great for homeowners who are thinking of getting retractable awning installation but aren't absolutely sure that they want to get rid of their outdoor space during inclement weather conditions.
Retractable awnings give you the freedom to enjoy the outdoors without worrying too much about leaving furniture or equipment lying around unattended because you know that it's safe in its place, protected from rain and harmful UV rays alike. This is especially important during harsh weather conditions such as storms with strong winds and heavy rain.
Retractable Awnings Can Help Reduce the Electricity Bill
Most homeowners don't realize that retractable awnings can help reduce the electricity bill. The best part is that you'll enjoy your new outdoor space during nice weather conditions and won't have to use your air conditioning system as much during hot weather. This makes retractable awnings the perfect solution for homeowners who want to spend more time outdoors while saving on their electricity bills at the same time.
During the hot summer months, retractable awnings can help cool the home. However, they can also help warm the home during the cool winter months. This is because retractable awning fabrics can be made out of different types of materials including insulated and non-insulated ones.
Conclusion
Retractable awnings are versatile shade solutions that provide protection from the sun and rain. They can be retracted when not in use, saving homeowners money on their electricity bills as well. Retractable awning installation is one of the best ways to improve your home's looks too.
Apart from that if you want to know about Patio Maintenance then please visit our Home Improvement category.