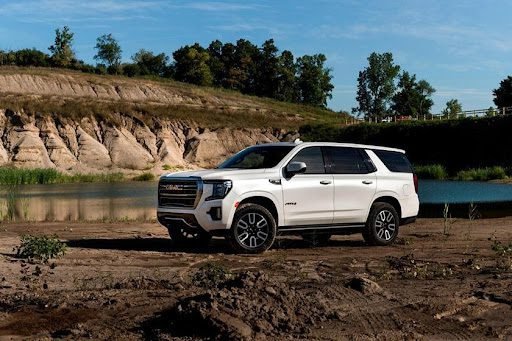 Last Updated on January 8, 2023 by Faiza Murtaza
GMC is a brand name in the industry of automobile that is known for manufacturing heavy vehicles, especially trucks. But in their inventory you also get family vehicles, like SUVs, that are practically a mixture of comfort and high performance abilities, since GMC builds them up with the same mechanisms it uses for engineering the trucks. So, practically speaking, if you know a GMC floor as famous as the GMC dealership near Salinas you can visit their stockroom to buy a family vehicle that is as reliable, sturdy and rugged as a truck.
The 2022 GMC Yukon is the best example to prove this point. It is an SUV model manufactured by GMC that has earned several accolades for delivering a performance as good as a truck, while offering a cozy and sophisticated environment in its spacious interior cabin.
The 2022 GMC Yukon is released as a full-size three-row SUV model that can haul a large family or a group of friends who love to travel through unknown territories while facing off-road challenges. Equipped with all the right set of driving dynamics and a handful of highly efficient powertrains, the 2022 GMC Yukon model series attract the attention of road adventurers and car buyers whose families consist of more than four to five members.
Features of the 2022 Model Year Edition
The 2022 model year edition of the GMC Yukon got released mostly as a carryover edition of its previous generation. These three-row big sized crossover SUV models from GMC come in the same four trims, known as the SLE, SLT, AT4 and Denali where the feature packages got a bit of reshuffling to honor the new manufacturing cycle.
Inside the cabins of the 2022 GMC Yukon, especially from the SLT trim there are some added features like a leather upholstery, newly ventilated front seats, an upgraded audio system, and a revised software for the infotainment system that already had smartphone features enabled through Android Auto and Apple CarPlay.
Engine and Other Power Components
Under the hood of the 2022 GMC Yukon models it is the same 5.3L V8 engine working towards raising 355 horsepower and 383 lb-ft. of torque. For those who want an SUV to dominate any kind of road challenges beneath the tires can go for the optional 6.2L V8 engine can empower the Yukon model with a roaring 420 hp and 460 lb-ft. of torque. To mate both the engine variants, GMC selected a 10-speed automatic transmission that can cater to both the rear-wheel-drive models as well to the all-wheel-drive ones.
The said powertrains can make the 2022 model year edition of the GMC Yukon models move as swiftly as picking up a speed of 60 mph from a dead stop within 7.1 seconds while it can now cross a quarter-mile of distance only in 16.5 seconds, which is a figure that can lead its own segment of vehicles by setting a good example of advanced engineering, explained the sales team leader of the Salinas GMC dealer.
Read more: Benefits of Ayurvedic Treatment