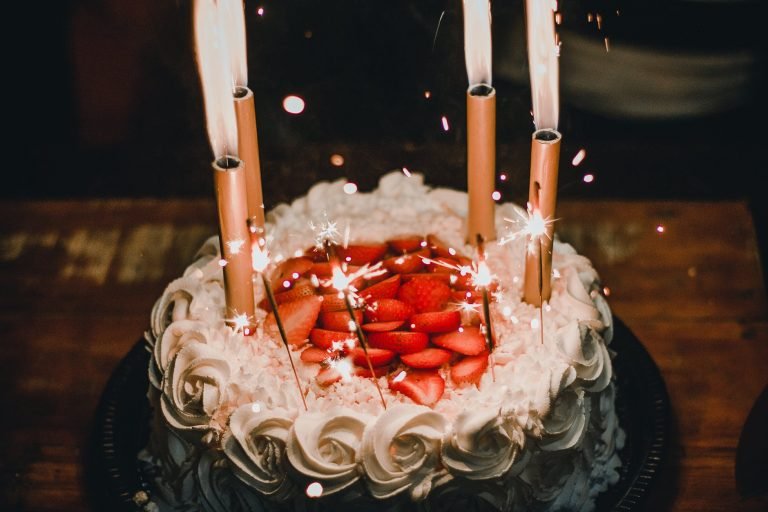 Last Updated on May 30, 2023 by
First, let's make some noise because the new year is not so far away. So you guys are ready to do rock and roll. After all, this is New Year, the first day of the year. You know, what I like most about the New Year. We celebrate the year which is leaving us in a few hours, and the year which is coming in a few hours. The whole family and friends come together to welcome the New Year. So, it is not less than a blessing. Because it's very few occasions or I can say moments when all your loved ones come under one roof. So at this moment, the sweetness is very important. So why not let's make a new year type of cake. It will be different from a regular cake, and it will create an atmosphere for the new year. Don't worry, this cake is so simple to make, and yum to eat. It required some basic ingredients, which are easily available everywhere. This cake will make everyone's mood super amazing. So let's go to the kitchen, after all for the baking cake you have to go to the kitchen. Infect you should read about New year cake recipe and then try.
First, let's see what are the ingredients we need to make our new year special cake. All are very basic ingredients.
Ingredients:
Cake:-
3 cup of cake flour
1 tablespoon baking powder
¼ tablespoon salt
1 cup Champagne(demi-sec or dry)
2 tablespoons vanilla extract
6 large egg whites, it should be at room temperature
Champagne buttercream:-
2 cups salted butter at room temperature
8 cups powdered sugar
7 to 8 tablespoon of champagne
1 tablespoon vanilla extract
Procedure:
Champagne buttercream:-
First, we will make the champagne buttercream. I am telling you, this can make your Christms also. I can assure you, this will be your Christmas cakes too. Okay, now start making.
First, take a bowl and put the butter in it. Now beat the butter at medium speed until it becomes creamy. After that, sugar in it, in two batches, now beat both of them together. And yes, add champagne as the way you will add sugar. Now beat them and make a fluffy and creamy texture. Now add vanilla extract and beat just to fold vanilla extract in it, and make the texture of the cream light. And here is yours, Champagne buttercream frosting is ready.
Now before starting cake making, order new year flowers online, for decor and for giving the special one. Now, don't blame me that you didn't remember me, and I forget to order flowers. Okay, now let's start the cake process.
Cake:-
First, preheat the oven at 350F, and grease the cake mold.
Now take a bowl, add butter and sugar in it. Basically, you have to use the same method above. You have to beat it to make it creamy, not fluffy, remember it. You have to do this with the help of an electric beater. Now add cake flour, baking powder, salt, and Champagne. You have to add champagne when we start beating everything together, and we are about to end. I mean, in two batches just like the raw materials. When the batter is about ready, stir the vanilla extract, and beat for 1 minute. Just to give a good mix, you can do it with the help of a spatula.
Now, again take a bowl and beat the egg whites. Now, slowly and gradually, fold the egg whites in the batter of the cake. When everything mixes into the batter. Now, it's time to transfer the batter into the cake mold. And yes, remember one thing, when I say fold, it means, you have to use the cut and fold method to mix the ingredient
Now tap the mold lightly for 2,3 times and keep it into the preheated oven for 17 to 19 minutes. After 17 minutes, check it once with the help of a toothpick or knife, whether the cake is completely baked or not. If your toothpick comes out clean, it means it is completely baked. Now, let it completely cool down, and after that demold the cake.
Now, do its icing with the champagne buttercream just like black forest cake. Cut the layers, and do it completely icing. Now, you can eat it like this.
Look, how easy it is and you don't need to search and take lots of stress, for the best online cake delivery. Because now, you can make the best cake yourself. So it's time for the celebration and making everyone smile.
Apart from that, if you are interested to know about Summer Cake Recipes then visit our Recipes category.