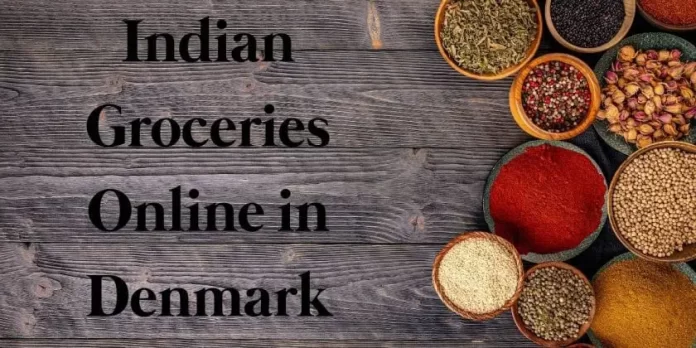 Last Updated on April 24, 2023 by
If you're an Indian living in Denmark, then you probably shop your groceries at one of the Indian stores in Denmark. The process of visiting the store and searching for your grocery list every weekend can be quite tedious at times. Further, if you have kids and you take them along the trouble will rise manifolds.
What if you could Shop all your Favourite Indian Products right from your home? Wouldn't that be wonderful! No need to spend hours picking your products and waiting in the billing queue, just scroll, add to cart, and place your order in just a few clicks. It's possible when you shop Indian Groceries Online in Denmark using the Dookan App, you can purchase all your Grocery needs from A to Z, without even stepping out. Moreover, the cherry on top is Dookan offers some unbelievable Discounts and Cashbacks on Grocery Orders.
Here, we will give you all the details about buying Indian groceries online in Denmark from Dookan. Also at the end, we will help you plan your monthly groceries in a hassle-free manner.
Download Dookan App for Best Indian Groceries Online in Denmark
The first step to begin your Grocery Shopping from Dookan is to download their app from Google Playstore or Apple Appstore. Using their official app, you can easily place your orders through your mobile, also you will get an additional discount on your purchase.
When you place an order using the Mobile App of Dookan you will get a Cashback of 5% on your total purchase. To get the discount on your order, just enter the promo code MOBILEAPP05 before checkout. You will get many benefits when you shop Indian Groceries Online in Denmark from Dookan.com. Let's Check them below:-
1. Offers by Dookan App on Indian Groceries in Denmark
Apart from it, there are various other offers you will get on your Online Grocery Order –
Stand a Chance to win Unlimited Monthly Cashbacks..
Get a Discount of 10% on a minimum order of 129 Euros (No Promo code Required).
On Orders above, 79 Euros get a cashback of 5% (No Promo code Required).
2. Get all your Favorite Brands and Products under one roof
One of the biggest benefits of shopping Indian Groceries in Denmark from Dookan is their broad range of products. Every major Indian brand is available on its mobile app, from TRS to Haldirams, Heera to Aashirvaad. Not only basic Indian products like Atta, Dal, Chawal, here you can also find a large variety of spices, herbs, and pickles. Further enhancing the flavor of your Dishes, Dookan offers Nuts, Dry Fruits, Oil, and Ghee.
If you are Gluten Allergic, you can purchase the Flours, Seeds, and Rice from their Gluten-Free Section.
They also have a wide array of beverages, including tea, coffee, sharbat, and pulp. Lastly, their Ready-to-Eat Mixes are a must-have. With a busy schedule, you no longer need to eat out or cheat on your diet. The readymade Idli, Upma, Dosa, etc, will help you prepare a wholesome meal in just a few seconds.
3. Easily Track your Order and Get On-Time Delivery
Using the Dookan App you can track your Indian Grocery Order easily. You will have the exact time slot and date of when your order will arrive at your doorstep. To ensure there is no delay in the delivery of your order Dookan has collaborated with the biggest delivery partner in Europe – DPD. Also to manage orders in peak time, they have deployed their own delivery trucks too.
Moreover, with on-time order delivery, Dookan fulfills all your Grocery requirements by delivering even on weekends and odd hours when almost every store is closed.
4. Only Quality and Hygienic Products
Dookan has the motto of providing only the Best Quality Products to its customers. The biggest concern customers have in Online Grocery Shopping is the quality of fruits and veggies. However, Dookan provides peace of mind, as their veggies are chemical-free and freshly packed,
Moreover, all the products are well-packed and properly checked before shipping to avoid any pilferage or damage.
5. Complete Honesty and Transparency in Online Grocery Orders
Dookan believes in offering Honest and Quality Services. That's why the Best Before Date is listed in Bold Letters in the product descriptions. Further, if you receive a product that is unfit for consumption or is damaged you may easily get it replaced or apply for a refund. Dookan provides an easy return and replacement within 14 days of delivery.
How to Plan Your Monthly Groceries?
To easily plan the shopping of your monthly groceries and to avoid unnecessary buying, the following steps would be very useful to you.
1. Prepare a Budget
Always ensure to prepare your monthly grocery budget. It'll help you to keep an eye on your finances. Also, make a rough idea of what you will prepare for your weekly meals. It will help you estimate the requirements of your Grocery Order.
2. Make a Checklist
Preparing a Grocery Checklist always helps. In addition to preventing you from missing out on essentials, it also prevents you from buying unnecessary items.
3. Note Down the Priorities
In your grocery list highlight the priority items. You may easily eliminate some of the less important products in case the total amount exceeds your budget.
4. Stick a List on your Fridge
Sticking the Grocery List on your Fridge saves a lot of time. Whenever you find that you are running out of a particular commodity you can immediately mention it on the list. When you do it you don't need to spare extra time before shopping for checking every drawer in your pantry.
5. Purchase in Bulk
Purchasing in Bulk is very healthy for your pocket. It helps you earn a lot of discounts and offers. Also, the price you spend on bulk commodities is much lesser than what you pay for small quantities.
Conclusion
When you purchase Indian Groceries Online in Denmark from Dookan it helps you earn lots of excellent discounts and offers. Also, you get the Best Quality of products from your beloved Indian Brands. So, from now onwards avoid going to supermarkets for Grocery Buying and order all your Groceries from Dookan. Lastly, when planning your grocery shopping, don't forget to use the tips mentioned above.
Read More: Easy ways to do grocery shopping