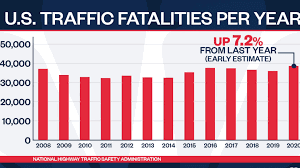 Last Updated on August 24, 2023 by
Virtually every American knows someone who has been injured or killed in a car accident. Though we do it every day, driving is one of the most dangerous things Americans engage in. Each year, cars and trucks kill as many people as guns and severely injure millions. As a society, we rely on vehicles to take us to our destinations, yet we often forget that we put our safety at risk.
Car Accidents During the Pandemic
When we think of the pandemic, we remember wearing masks and quarantine while following the rules of social distancing. Few people were on the road during the pandemic, which would lead one to think that the rate and number of car crashes declined. The truth is that car accident death (including both occupants of vehicles and pedestrians) have surged since 2019.
Cars killed 42,000 people in 2020, an increase from 39,107 in 2019, according to the National Safety Council (NCS). This surge occurred even as the number of miles traveled by car decreased by 13 percent from the previous year. This is known as the biggest single-year spike in the US car fatality rate in nearly a century, and experts say that 2021 is on its way to being even worse.
Less traffic on the road, more speeding
As explained by several traffic experts, "the explanation for the 2020 fatality spike is relatively straightforward. With fewer cars on the road during quarantine, traffic congestion was all but eliminated, which allowed people to drive at lethal speeds. Compared to 2019, many more drivers involved in fatal crashes also didn't wear seat belts or drove drunk."
In addition to speeding, the pandemic has altered traffic patterns across America. People drove differently during the COVID outbreak. With fewer cars on the road, it was easy to take shortcuts, peel out in intersections and take the scenic route. As a society, we had more time on our hands in the heart of the pandemic, which encouraged drivers to get creative with their itineraries.
Public Health Emergency
Before the Covid-driven surge in car deaths, automobile accidents were already occurring at an alarming rate. This is true for both pedestrians and people in cars. The NCS is calling the rate at which car accidents are happening a 'public health emergency.' There need to be tighter rules and restrictions regarding speeding, wearing seat belts, and reckless driving in general.
A recent report on car fatality rates confirms that the US ranked among the worst. Other countries, such as Belgium, France, and Span, have decreased per-capita car death rates compared to the US. These findings come from 21 years, in which the US' car deaths have only shown signs of decrease, but not at the rates of the countries in comparison.
Pedestrians
We indeed try to protect the pedestrians on our roadways. We have designated crosswalks, traffic signals depicting if it is safe to cross the street, and many bike lanes – even on major highways. Pedestrians are our most valued road users, and they walk in many of the same environments that are dangerous for drivers. Looking at how pedestrians use the roads and highways is important as we consider making the roads safe for all drivers.
Cars kill 1.3 million people (globally) every year, more than murders and suicides combined. Most of the victims are pedestrians, bikers, and motorcyclists. When you or a loved one is injured, as a driver or a pedestrian, you can turn to Cesar Ornelas Law to guide you towards healing and justice.
Injured in a Car Accident? Cesar Ornelas Can Help.
Vehicular accidents happen too often on Texas roads. With thousands of miles of highways alone, it is clear the risk is high. The potential injuries and deaths can be overwhelming to think about.
Suppose you or someone you love has been injured in a car accident. In that case, you will need an experienced, successful injury lawyer to help you bear the burden of lost income, mounting medical bills, and other expenses caused by your injuries.
Cesar Ornelas is the lawyer who can evaluate your situation and give you excellent advice to handle all the details of your misfortune.
The Cesar Ornelas Law Firm offers a FREE CONSULTATION for your initial visit where your questions will be answered, and you will learn if you have a good case for any compensation.
Autor
Cesar Ornelas has been named as a life member of both the Million Dollar Advocates Forum and the Multi-Million Dollar Advocates Forum. The Million Dollar Advocates Forum is recognized as one of the most prestigious groups of trial lawyers in the United States and less than 1% of U.S. lawyers are members.
Apart from that, if you are interested to know about Facing a Car Accident then visit our Lifestyle category.