Last Updated on November 10, 2023 by Asfa Rasheed
A business plan is little more than a wish list if it does not include a clear picture of what has to be done and by when. Business plans and projects have several time-sensitive moving parts, and a timeline template is a simple solution for managing these parts.
It will ensure that everyone's expectations stay on the same page and establish clear rules for each team, letting them know what needs to be done and by when.
Looking for a time-saving way to create aesthetically beautiful presentations in a few minutes?
Well, you're at the perfect place! SlideUpLift offers professionally designed PowerPoint templates. They also have an extensive range of Google Slides Templates. Or, if you need custom branded presentation designs, you can subscribe to an unlimited graphic design service!
So, let's move on to our list of the top five timeline templates that any business expert must have:
1. Business Strategy Timelines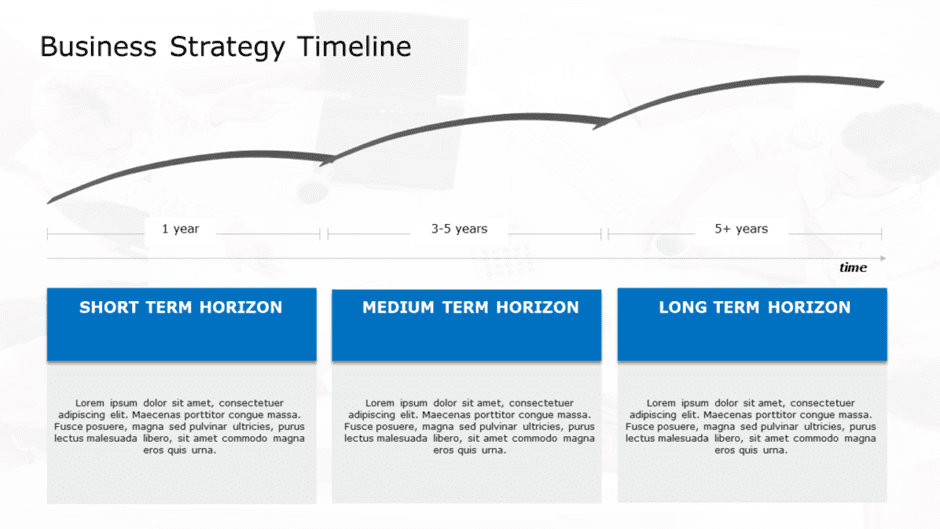 A business strategy is a plan that lists your company's future plans. This business strategy timeline template can help you plan out your company's goals for the future while also giving you enough time to select the ideal techniques and better manage them.
This timeline template will also assist administrators and managers in managing and investing in initiatives that correspond with their company's strategy and supporting teamwork that aligns everyone on objectives and new investments.
Use an innovative timeline. To get the attention of your stakeholders, use PowerPoint to present your business strategy. To spice up your business strategy, you may use a variety of designs to capture attention, such as animations, shapes, and isometrics.
2. Company Timelines
Every business has something to showcase, and the best way to do it is with a business timeline template. This business timeline template will highlight exceptional moments that define who you are and what you stand for now, from small foundations to bright future objectives.
The company timeline can be used for Human Resource Presentations, Business Proposals, Employee Introductions, and other purposes.
Furthermore, presenting your business objectives demonstrates that your administration has a clear vision and reinforces trust in your workforce and clientele.
Using such unique company timelines will draw attention to your company's development, future objectives, and accomplishments, generating buzz and enthusiasm among your audience.
3. Project Timelines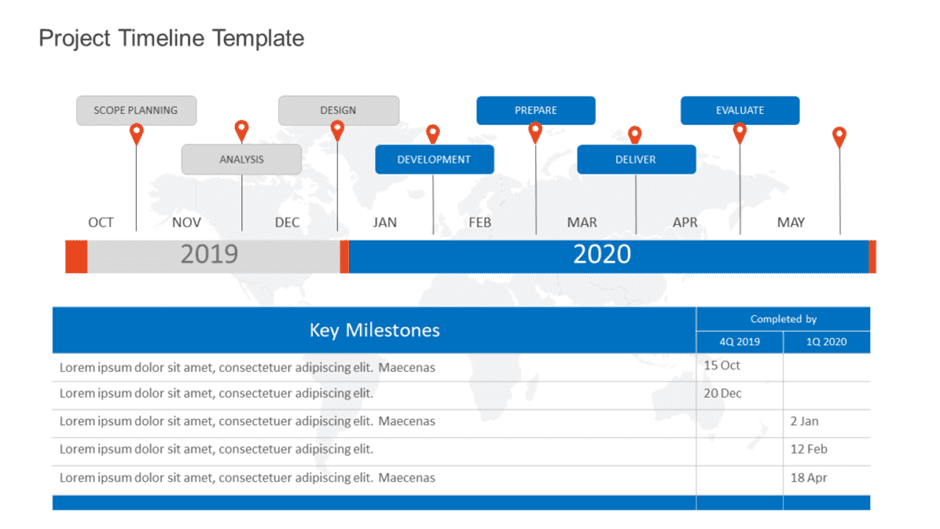 Time is the most important factor in the success of any endeavor. When you precisely construct your project timeline, you will learn how devastating a delay can be.
This project timeline template can be used by project managers, investors, and employees to prevent teams from operating mindlessly, inaccurate releases and deadlines, and to evaluate what occurred in the past and improve it in the future.
4. Product Roadmaps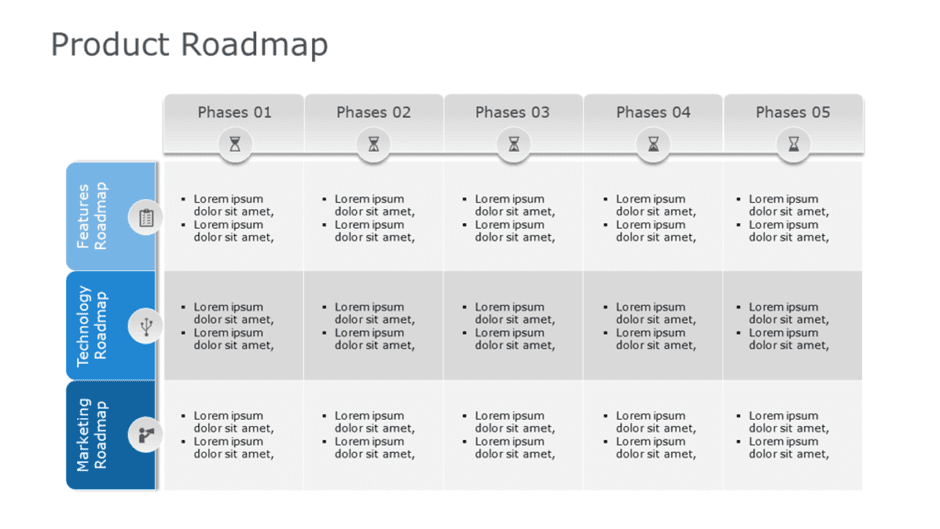 A product roadmap is a blueprint that outlines a team's aims and ambitions for the product image. These roadmaps can be created for Financing Products, team product plans, product lifecycles, and other purposes. The timeline product roadmap template provides an optical framework for the many moving parts that must work together to enable product success.
The timeline roadmap template is more strict in terms of deadlines or scheduling, applying a time-sensitive framework, and is utilized for controlling upcoming work necessary to accomplish project progress and deliverables. Team members can also use this roadmap to defend or discuss certain points of view or choices.
5. History Timelines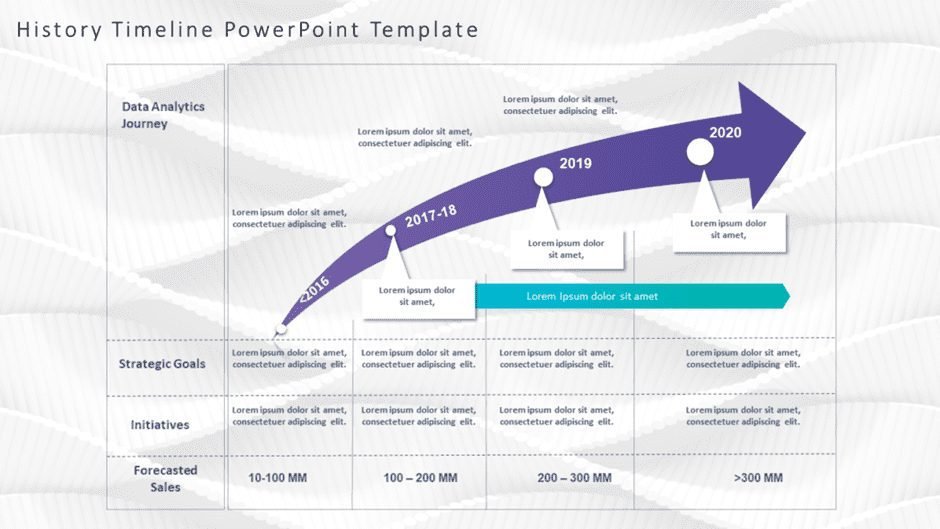 The company history timeline provides confident narratives and joyful stories that can be leveraged for historical assessment to enhance corporate creativity, activities, and progress. It's also a vital tool for executives to understand the company's history and assist define its future.
You can also use this history timeline template when preparing a presentation for a new client because it makes your company's message more trustworthy. It makes them realize that your company has withstood the test of time and that you have a trustworthy bond with your clients, which naturally persuades them to put more faith in your brand.
Most Effective Ways To Showcase Timelines
1. PowerPoint Animations
Enhance the look of your timeline. An animated PowerPoint presentation. Using animation in your timeline PowerPoint presentation can improve the effectiveness of your presentation and make the content more memorable.
Animations can be utilized effectively to draw the audience's attention while also forwarding your message. Animations can easily be employed to emphasize particular elements and phrases of your timeline presentation when presenting to prospective customers.
At a long business conference, animations can even help preserve audiences that are suffering from presentation fatigue.
With a range of Animated Templates, you can wow your audience. Animated timelines can let you successfully emphasize each milestone.
2. Pictures
We've all heard the saying "an image is worth a thousand words." It is the same while considering the presentation. According to studies, humans retain 65 percent of the information delivered via pictures.
Including images in your timeline presentation, such as a historical timeline or corporate timeline, will serve as a visual backdrop when you build on an idea; it will extract the viewer's emotions and allow the audience to participate in a moment, bringing that event back to life.
3. Shapes
Symbolism not only helps your viewer's eyes; it also helps them learn and comprehend. Shapes have the ability to affect how your audience feels about a topic since they unconsciously link the viewer to the objects.
Using a road shape in your roadmap timeline, for example, will demonstrate the exact route the business should take, instilling trust in your brand as you make your way around your target.
In addition, employing a triangle/mountain in your company plan timeline will signify prosperity, which happens by climbing the mountain, and this is how shapes can be leveraged to convey opinions and generate a stronger impression and relationship with the audience.
4. Isometrics
With our isometric designs, you can represent three-dimensional structures in two dimensions. With its potential to exhibit the design from several aspects, isometric allows you to showcase ideas from a fresh viewpoint.
Isometrics can be used in many types of business presentations, from project timelines and corporate timelines to Business Strategy timelines. Isometric 3D structures can be shown clearly with realistic features that are easily understood and can even be merged for desired effects, boosting your idea's aesthetic appeal and recognizability.
Wrapping It Up
A clear vision opens many doors. It leads to project success, business recognition, and personal growth. Making a timeline is one of the most effective ways to visualize any project. By portraying a succession of events in chronological order, this type of graphical representation assists in the interpretation of stories and the representation of processes.
Read More: How can you make perfect project timeline templates