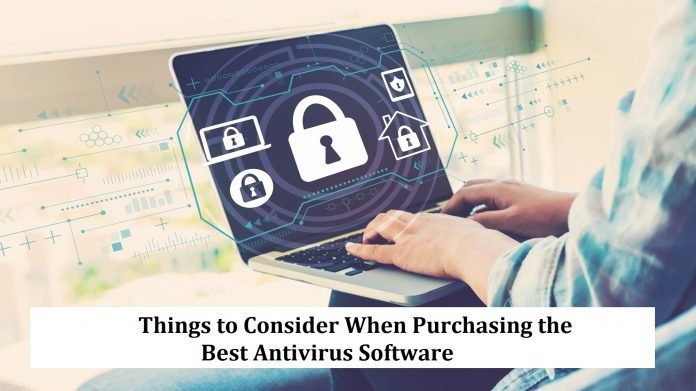 Last Updated on January 6, 2022 by binkhalid
With the increase in the level of cybersecurity, hackers have found new, innovative ways to attack computers. They are now targeting all the operating systems that are used around the world, and not just Windows as before. So, if you think you are safe because you are using Android or iOS, you can't be more wrong.
That makes choosing the right antivirus software even more difficult as more and more people are using multiple devices that run on different operating systems. For this reason, it is recommended to use that antivirus which is compatible with the operating system you use and is tailored to your security needs.
In this regard, you can download PC Matic as it is compatible across multiple operating systems. You also need an antivirus solution that will protect your system from all kinds of online attacks.
We will look at the points you should keep in mind while choosing the best antivirus program for your computer.
Let's begin!
1. Security against malware
You must have a basic knowledge of the kinds of malware that are there. That would help you narrow down your search for an antivirus solution.

Common malware includes viruses that infect your system and drastically reduce its performance. Removing those viruses helps in getting the speed of the computer back on track.

Spyware infects your computer and then monitors your internet activity to steal your personal information. Some advanced spyware records your keystrokes as you enter your bank login information and then steal your money.

Adware appears as a popup ad and infects your computer if you click on it. It might also trick you into giving your personal information or make you buy a fake product at a discounted price.

Ransomware is the most dangerous form of malware in which the hackers hijack your computer and demand money in return for releasing their control on it. If that happens, your only choices are to either give the money or install a new operating system.

The antivirus that you choose should be capable of protecting your computer from any attack. PC Matic's unique approach is effective in fighting all kinds of malware. That's why it is touted as the best American-made antivirus software. It runs continuously in the background as you work and notifies you if it detects any malicious behaviour. It provides real-time protection and scans the complete system for traces of viruses.

2. PC Optimization
The role of antivirus software has increased from being a mere tool to fight online threats to being an instrument for the improvement of the overall health of the computer. Apart from protecting your system from cyberattacks, the antivirus must also help in improving the performance of the computer.

The software must be lightweight and should be easy on the system. Some antivirus programs are so heavy that they slow down the system. Sometimes the performance gets severely affected to such an extent that performing basic tasks becomes a challenge during a scan.

PC Matic antivirus is lightweight and has no impact on the system's resources. It regularly removes temp files and junk files that get stored in the system when you surf the internet or work on any program. This ensures that the system runs at peak performance.

3. Ease of use
Although everyone who owns a computer or smartphone requires antivirus, not all of them are tech-savvy. Some are children, some are elderly people, and some are not that much into technology. To tackle this, it is essential for an antivirus program to have a user-friendly interface and ease of navigation.

Also, the detection and removal of viruses must be done automatically as most people don't have time to get to each notification that the antivirus program sends.

PC Matic antivirus has an interface that is so flexible that it is convenient for people who are not tech-savvy and gives enough freedom of customization for people who are.

It also detects and removes malware in real-time, but still, running a manual scan for the full system from time to time is also recommended.

Apart from this, PC Matic antivirus also updates the drivers of the system automatically after each scan. This is important as hackers might target a weak link in a driver that is not updated to break into the system.

4. Protection across multiple operating systems
You might have a laptop that runs on Windows, an android smartphone, and an iPad, or your family members might be using devices that run on different operating systems. It will not only be a hassle to manage antivirus for all those devices, but it will also get very expensive. For this, you need an antivirus program that is compatible with all major operating systems.

PC Matic antivirus is compatible with Windows XP, Vista, 7, 8, and 10. You can also download PC Matic for Android devices from the Google Play store. The beta version for Mac has also been released.

If you think that it would be costly to buy an antivirus license key for all devices even if they belong to the same vendor, it is not. PC Matic allows you to safeguard up to five devices by purchasing just one license key for an annual subscription of $50.

5. Additional features
Sometimes the basic features provided by an antivirus program are not enough. Customers desire more features to fulfil other requirements. Most vendors offer different packs that have more features at an extra cost. You can go through them and decide which plan is suitable for you.

PC Matic antivirus provides customizable features that will cater to your needs if you are a business owner or a concerned parent.

The Super shield feature of PC Matic blocks malware in real-time using the white list approach for scanning.

The parental control feature helps parents keep a tab and monitor their children's internet activity.

The technical support is available 24X7 in multiple languages and the website has detailed instructions to download PC Matic. The exhaustive list of FAQs has the potential to clear all of your doubts.

While most people get an antivirus program after they suspect that their system is infected with a virus, it is recommended that you make having antivirus a priority. Let's not wait for a cyberattack to happen. Let's work together in preventing it from occurring.