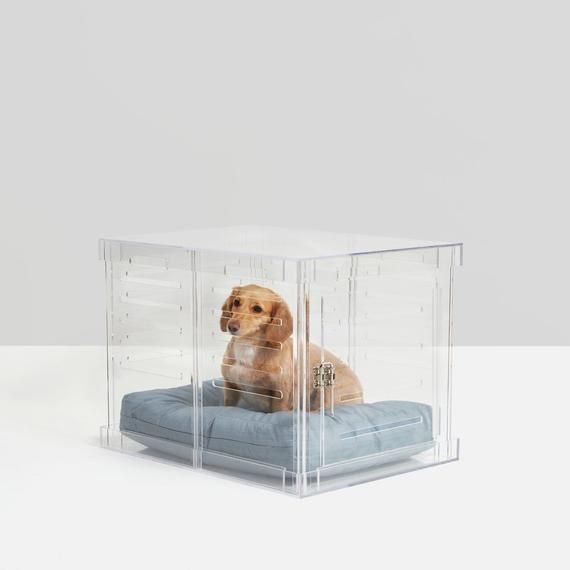 Last Updated on January 28, 2023 by admin
Pet products haven't been eye-pleasing for a very long time. Most of it is just function-based. With some pet products arising in the market now, it is still tricky to spot pet products that serve both the characteristics of being functional and pleasing.
There is this dog bed that is not just aesthetically looking but is also functional – in a way that you can repurpose more!
Continue reading to know more about the other possible purpose of Modern Acrylic Beds for Dogs. But first things first, let us hop in with its most basic kind – the Acrylic Dog Beds.
Acrylic Dog Beds: What Makes it Multifunctional?
Products that are aesthetically pleasing in our times now are modern in design. Modern design has clean lines that are instantly identifiable. The lack of detailed craftsmanship and carving set it apart from more conventional pieces.
According to Linesmag, clearer lines and fewer embellishments are hallmarks of contemporary design. The more geometric forms, clear lines, and angles, the more stylish. As a result, the most prominent modern design aspects are straight lines and angular shapes.
But what are we describing as modern if it were a dog product? There is no substitute for Lucite clear acrylic for contemporary design and furnishings. Lucite is also known as clear acrylic. Any furniture or interior design item may be made from this elegant and transparent material.
Modern acrylic beds for dogs from https://shophiddin.com/collections/beds are an excellent option for dog beds. They offer the best of both worlds of function and aesthetic. Also, its stylish design is very open to limitless functions you can add to it. To picture out what I'm talking about, here's a dog bed from Hiddin.
Hiddin's Clear Rectangular Lucite Dog Bed. Source.
This dog bed is made of carefully polished Lucite to give your dogs the ultimate comfort they need. Its design is transparent, making it eye-pleasing as it can fit with any other furniture you will set beside it. Also, its size is customizable, which can also be perfect for any dog breed.
Acrylic dog beds are your way to achieve the consistent aesthetic you are trying to build up through your home. You can pair it up with everything with its transparent design, as it seems like it just dissolves in the space. You're guaranteed that the dog bed won't affect your other decorations, no matter what shape of the dog bed you'll get. Fun, right?
But enough of the aesthetic. We do not just want the best for ourselves but also our fur friends. Providing them with a multifunctional bed is the best treatment for them. Below are some ways you can repurpose a modern acrylic bed for dogs.
Is Your Fur Pet in Pain? Try Using Orthopedic Dog Bed
These days, our four-legged companions deserve the finest bed for their arthritic joints and keep them warm and snug. A good orthopedic dog bed may make a difference for a dog that suffers from arthritis, joint discomfort, weak bones, or the usual aches and pains that come with age.
As dogs grow old, they exert a lot of stress on their joints, ligaments, bones, and muscles, contributing to long-term health problems. Elbows and hip joints are given special care in orthopedic dog beds, offering additional support.
Hiddin's Clear Rectangular Lucite Dog Bed. Source.
When a dog with an orthopedic problem sleep, it should not sink into soft padding or feel the floor underneath it. This circumstance makes the clear rectangular Lucite dog bed the best dog orthopedic bed. Its design is elevated, preventing your dogs from having a difficulty standing on their own.
Also, with its wide opening, you can customize the mattress you will use as an orthopedic dog bed. According to Dr. Tori Countner, "Dogs may get off of their beds more easily with the help of memory foam, which is somewhat stiffer and avoids drooping. Memory foam also provides additional support for joints." So, you might consider buying a memory foam to put at the top of the Clear Rectangular Lucite Dog Bed.
No One-Size Fits All. Get Jumbo and Large Dog Beds
Large dogs, regardless of breed, need a comfortable bed. Purchasing one has nothing to do with pet owners indulging their canine companions. According to Veterinarians Org, the following are some of the most significant reasons you should acquire a jumbo dog bed for your pet.
As the weather becomes colder, large dogs with slim frames may struggle to maintain their body temperature and save heat. A cold may worsen and progress to pneumonia in an older dog with a compromised immune system.
Investing in a dog bed that is meant to keep dogs comfortable during the chilly winter months may also benefit pet owners with dogs.
Anxiety is more common in certain dog breeds. Pet owners must provide more attention and care to these dogs to help them recover.
Donut beds and cuddlers are great options to help your dog relax and feel more at peace, so consider getting one for your canine companion.
You can find the perfect example of large dog beds on sale on Hiddin. They offer this clear round dog bed with a donut cushion, which will surely provide your dog the relaxation they need to be brought by the round mattress. Its size is customizable, perfect for your large and jumbo fur friends, as you can request what size is ideal for them.
Hiddin's Clear Round Dog Bed with Donut Cushion. Source.
Every product you splurge on must be worthy of every penny you spend. Thanks to modern developments, you also have the freedom to tweak its design – shaped according to your pet's needs.
Also, it is essential to give our fur friends the sleep they need. Being adorable is already hard to do, so let us give them back the luxury of being comfortable! It is crucial to give dogs their own bed where they can have that sense of good quality sleep and relaxation.
Conclusion
Who would have thought that Modern Acrylic beds for dogs now come not just for them to sleep on but may add beauty and elegance to our home interior. In addition, it may be customized in such a way that it will help pets recover while they are in pain or in need to maintain their body temperature. Whatever it is that you are looking for, be sure to do your research and understand what your pet currently needs.
For more information on dog beds, check our site for other related articles.
Read more interesting articles at Readesh