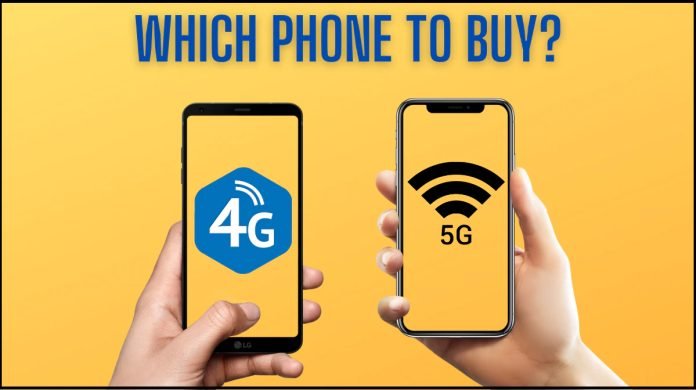 Last Updated on August 15, 2023 by
With the recent launch of 5g, it has become a trendy topic. People still need clarification about whether they upgrade to 5G or 4G is a good choice. Should you buy a 5G or 4G mobile phone in Pakistan?
Every mobile provider is launching a new mobile phone every coming day, resulting in an abundance of 5G smartphones in the market. Their hype is like a news headline.
● Are they worth it?
● Should you go for it?
● Do you need to buy a 5G smartphone?
● Why is a 4G smartphone not a better option to use in 2022?
● Is it necessary to spend extra rupees on 5G devices?
Do you want answers to these questions? Stay with me till the end of this blog to clear your doubts.
Sadly, smartphone prices in Pakistan have risen to the skies, compelling people to use old phones. But don't worry about it. Along with a comparison between 5G and 4G, this blog will help you get the right smartphone for your budget.
Why Is There Hype For 5G Smartphones?
The first question you hear when buying a smartphone is, is it a 5G? Why is this happening? Why are people crazy about 5G smartphones?
We know 5G will take some time to install its full-fledged functions. It needs proper rehauling of the network providers. It will take time to expand availability across all the areas. But still, everyone is excited about it.
Showing 5G is a futuristic feature and is better than everything. It is because of advertising agencies. Every mobile provider phone is launching its 5G ads, claiming their smartphones as future-proof 5G smartphones. No matter what features their phone possesses if it is a 5G smartphone, you have everything.
Let us reveal the truth.
Is It Worth Buying A 5G Smartphone In Pakistan?
The 5G mobile phones are available in every nook and corner. Mobile providers are launching their 5G phones every week, some medium budget smartphones, others at high budget. But our main concern is whether it is worth buying a 5G smartphone in Pakistan. Let us disclose this matter.
The answers to this question are YES as well as No.
It is the start of 5G. It will take at least a year or two to provide complete functionality. Only major cities will get access at first. And other places can take up to 5 years to have full 5G support.
So, if you buy a 5G smartphone now and don't live in the big cities, there is no use in spending money on the features you don't utilize.
If YES To 5G Smartphones, Why?
Its proper and concise answer is if you are planning to use your newly purchased 5G smartphone for more than two years, then you are good to go to 5G smartphones. So, it is mandatory to know how many years you will use this smartphone.
You will also get 4G in a 5G smartphone—a plus point.
Here is a fun fact. Zong launched 4G in 2014. But Pakistan gets full access to 4G in all areas in about 2017-2018. So, the time frame is essential when buying a 5G smartphone in Pakistan.
If you are tech-savvy and want a 5G smartphone at a pretty discount, go and check Savyour. It offers discounts and cashback on all 5G smartphones.
Why NO To 5G Smartphones?
Firstly, 5G may need to meet your expectations. Mayhap you think it is fast the light, but it is not the reality. As the number of 5G consumers increases, you will feel the decrease in speed. But it is the reality it is much faster than 4G.
Secondly, 5G takes a lot of power. You will feel a 10% to 20% decrease in battery life while using 5G.
Thirdly, it makes your smartphone hot, decreasing the overall performance of your smartphone.
Fourthly, 5G will consume more data. If you use 5GB weekly, 5G will finish in a day.
Fifthly, 5G smartphones are much more expensive than 4G smartphones. So, decide accordingly.
Last, it will take years to operate entirely in Pakistan. So, there are better choices than spending money on 5G smartphones.
Should you buy a 4G or 5G smartphone in 2022?
The whole conservation doesn't mean 5G is not worth it. But it is to clear your doubts and expectations.
5G will take a lot of time. It is not a piece of cake to rehaul the internet service sector. Moreover, it takes money to do so.
So, in 2022 your primary focus should be to get a hi-fi smartphone with modernistic features, a powerful processor, a sharp display, an excellent camera, and superb battery backup. No matter if it is 4G or 5G. Set aside 5G considerations. Buy a smartphone that enhances your lifestyle with hi-fi gadgets.
If you want a flagship 5G smartphone, here is a tip. Buy a smartphone from Savyour and get huge discounts and cashback.
Final Words
In 2022, we are experiencing hype about 5G. People are comparing 4G and 5G, their merits and demerits. Therefore, 4G smartphones vs. 5G smartphones in 2022 is a trending topic. So, we analyzed all the possible benefits and disadvantages of using 5G smartphones. It will help you know whether you should buy a 4g or 5g smartphone.
So, why are you still here? On the other hand, we are experiencing a rise in mobile phone prices in Pakistan. So, getting a 5G smartphone is only possible for some. But for your ease, savyour has launched a deal. Buy a smartphone and get huge discounts and cashback. Go and grab the smartphone of your desire to complete yourself.