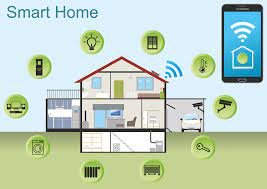 Last Updated on July 10, 2022 by azamqasim
Right now, almost everyone can relate when you say, "life is so stressful." Work, household care, and social obligations leave you with little time for Home Automation maintenance.
An innovative home automation system can help ease some of your stress when you think of an appliance upgrade. This will help you control your devices. Now, if you are onto smart living, you can grab tools, electrical supply parts, and products in nearby stores. You can even now buy with your mobile device. If that isn't smart enough, it is, and you are about to discover more.
What is Home Automation?
Home automation connects home devices like light switches, outlets, and heating and cooling systems to a controller.
So, for automated home security and safety, AI-powered devices can be alarm systems and be your ordinary doors and windows. What innovates them are smart locks, smoke detectors, surveillance cameras, and other sensors.
This system uses pressure and level sensors, photodetectors, thermostats, thermocouples, and current transformers.
Smartphones, touch pads, and personal computers may serve as controllers if supported by your system. Programmable logic controllers control the actuators, and these controllers get information from the sensors.
Actuators relate to controlling devices such as motors, relays, and limit switches. Communication is integral to your home automation system, and these automation intel systems give continuous surveillance.
What are the advantages of home automation technology?
This technology allows homeowners to control, manage, and track what is going on at home via mobile devices. Also known as "automated" or "smart" homes. Below are the benefits of this tech:
1- Manage all household electronics from a centralized spot
The level of comfort is astounding. Connecting all your home's electrical devices through a single interface is a significant technological and home management improvement. It will help if you learn how to use a single application on your device to access many home functions and devices. This minimizes the learning curve for new users and makes it simple to access the home functionalities you want.
2- Adaptability to new equipment and appliances
The adaptability of innovative home systems to accommodate new devices, appliances, and other kinds of technology is often exceptional. No matter how cutting-edge your present appliances may appear, more unique and impressive versions will be created over time. As you replace older devices or discover new indoor and outdoor technologies, you will likely add to your collection of instruments.
3- Increase residential security
Home security can be enhanced when an intelligent home network includes security and surveillance technologies. Many options are accessible, but only a few dozen are being researched. For example, home automation systems can link motion detectors, automated door locks, surveillance cameras, and other tangible security measures across your home, enabling you to activate them from a single mobile device before retiring for the night. You can also receive security alerts on your devices based on the time of day a signal is generated. You can also track real-time behaviour at home or halfway around the world.
4- Home function remote control
Do not underestimate the power of remote control over your home parts. On scorching days, you might instruct your home's cooling system to turn on before returning home from work. If you're in a hurry to cook supper but are still at the grocery store, you can start preheating your oven on the way home. You can also check to see if you have left the lights on, if someone is at your front door, and if your media devices are switched off.
5- Energy efficiency
Your home can become more energy-efficient depending on your smart-home technology. You can have more precise control over your home's heating and cooling, for instance, with a programmed smart thermostat that learns your schedule and temperature preferences and then suggests the most energy-efficient settings throughout the day. You never have to worry about wasting energy since you can control the lights and motorized shades to switch to an evening mode when the sun sets or turn on and off when you enter and exit a room.
6- Enhances the appliance's functionality
Smart homes can also enhance the efficiency of home appliances. A smart TV will help you locate your chosen programming through its upgraded apps and channels. You will never have to worry about overcooking or undercooking chicken with the help of a smart oven. A well-designed home theater and audio system may make managing your movie and music collection straightforward when entertaining visitors. Connecting your appliances and other systems with automation technology will boost the efficiency of your devices and make your home life more convenient and enjoyable.
Read More: Types of Alarm Systems to Consider for your Home
7- Home management insights
There is much to be said about your access to information about the operation of your home. Over time, you may track how you watch television (and what you watch), what you cook in your oven, what you store in your refrigerator, and how you use energy. Based on these insights, you may be able to check your daily routines and activities and make improvements to live the lifestyle you prefer.
How to Select the most suitable home automation device for your needs?
When assessing whether home automation devices suit you, it is prudent to consider your particular demands. For example, a compact system with minimal capability is enough in a small home with few lights and appliances. You may need a more robust system if you own a large, multi-level home.
To narrow your selections, you must specify the types of devices you intend to operate. It is also helpful to examine the number of connected devices in each system.
Power Line Automation
The affordability explains why power line automation is so popular. Your tools are transmitted to a control interface using the home's electrical wiring.
This system's advantage is that it can cover your entire house. This type of home automation system is the most popular of the three.
Yet, there are a few disadvantages to home automation systems that use electricity lines. It would help if you first employed noise filters. Also, this system lacks the complexity of the other two home automation systems.
This system is less costly than other automation set-ups, though. Information transit does not need extra wires. You can use any existing cables at home.
Wired System
Wired home automation systems use Cat 5 cables to send data to a control centre. This system can be used in new and older homes, but it is best suited for new construction. This is a fantastic home automation alternative. This technology is reliable and compatible with other devices.
Although this system has some drawbacks, it is not as popular as other home automation systems. People may choose wireless technology due to its convenience. The household appliances are connected to a programmable logic controller in this home automation system—actuators aid in transmitting commands from the central controller to the equipment.
A Wireless Home Automation System
Wireless technology is now pervasive. A wireless system enables many connections without the need to lay cables behind barriers. WiFi can connect all your home's electronics.
A wireless home automation system has been the most popular alternative due to its reliability and ease of installation. This is the optimal choice for all home automation users.
It would be best to guarantee that your solutions are compatible with open networks. Before installation, the system is inspected. Wireless home automation systems use Bluetooth, WiFi, IR, etc. That offers more advantages than the other two options.
Putting it all together
Before choosing control technology, you must understand business requirements. After assessing the needs, you must make a well-informed choice between wired and wireless systems. If you are uncertain about whether technology is the best solution for you, do not be hesitant to see a professional.
Smart homes are growing to unthinkable access to many high-tech amenities and luxury. As technology takes huge strides, so will the prospects for home automation to make consumers' lives easier and more enjoyable.