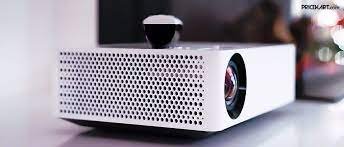 Last Updated on January 8, 2023 by Faiza Murtaza
Each year, new projector models with better designs, convenient features and upgraded specs enter the tech market. This 2022 alone, many popular brands from XGIMI to BenQ launched new portable projector products. If you are looking to buy a projector in Australia, be sure to do your research and weigh your options first before making a final decision.
Here are some of the best projectors of 2022 you might consider purchasing:
1) JMGO O1 PRO Ultra-Short Throw Smart LED Projector
This projector does the most despite its size. It features a 0.21 Ultra-Short Throw ability that lets you place the projector a short distance away from the screen and still enjoy a massive screen size of around 70 to 110 inches. The JMGO O1 PRO showcases top notch projection capabilities thanks to an FHD resolution co-engineered with LEICA, a popular manufacturer of high-end cameras, lenses and devices.
Equipped with a Zero Perception Intelligent System and a MediaTek MT9669 chip, this JMGO projector is as visually accurate as it is fast and efficient. It has an eye protection system consisting of anti-glare and a low blue light mode that automatically detects movements from individuals and animals. Activate the Smart 24/7 Companion with Luna OS to access features you normally would not be able to with older projector models such as a music visualiser, weather forecast, and digital gallery, among others.
2) Xiaomi 4K Laser Projector
New projectors released by Xiaomi are giving competitors a run for the money. Another model with an ultra-short throw distance projection ability, you can view films or enjoy visual media from a massive 150-inch screen. This Xiaomi laser projector can reflect large pictures on screen at an impressive 4K resolution. If you plan to set up your own home cinema, consider buying the Xiaomi 4K projector. Pictures are vivid and realistic and it is relatively more affordable than laser projectors of a similar model or price range.
3) BenQ GS2 Wireless Portable LED Projector
Marketed as a child-friendly projector, the BenQ GS2 sets itself apart from other projectors with its wire-free and portability features. One of the best projectors to have for gaming, music appreciation and movie marathons at home. You can easily attach all kinds of consoles to this device including PlayStation 3 and 4, Xbox One, Xbox 360, Nintendo Switch and Nintendo Wii. A built-in Bluetooth speaker enhances your experience with this projector.
Its LumiExpert technology automatically detects light conditions and adjusts to a suitable brightness level. The GS2's autofocus feature activates when turned on, but you may also adjust the settings through a remote controller. This projector has a splash-proof design and can be used for several hours without charging.
The Halo True is a smart portable projector packed with awesome features, typical of the XGIMI brand. The built-in Harman/Kardon speakers produce premium audio and make it easy to immerse in a game or film. Its compact design means you can bring it anywhere without problems. It is a great outdoor projector boasting 800 ANSI Lumen, Keystone Correction Projection, voice control via Google Assistant and wireless connectivity (Bluetooth, mobile and Wi-Fi). Connect it to an Android TV 9.0 to access more than 5000 apps.
Where to Buy Projectors in Australia
Your next projector purchase should be with a reputable tech company with a proven track record in manufacturing or selling projectors. Before you decide on a brand and model, read reviews online, compare specs and prices, and get the opinion of previous customers or someone you know who purchased similar products. Note that each projector model has its respective advantages and disadvantages. At the end of the day, the best projector is one that matches your requirements and completes the job smoothly.