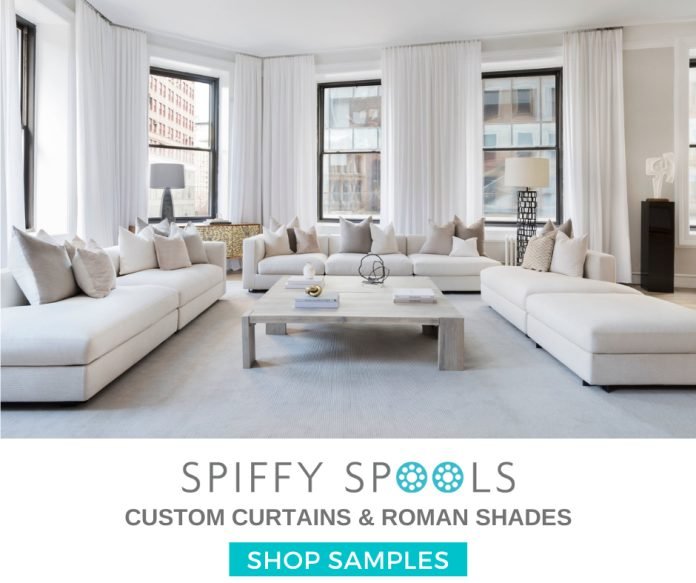 Last Updated on December 25, 2022 by
Windows are an integral part of every room in a house. You could say that a room without windows is just a cell. Similarly, a room with drab window treatments looks just boring and brooding.
Just as a house has many types of rooms – living, dining, study, kitchen, home office, nursery, bathroom, etc. – there are many types of window treatments too, such as custom curtains, custom drapes, blinds, custom roman shades, and shutters. Then there are add-on window treatment features like valances, trimmings, tie-backs, etc. When chosen thoughtfully, the right kind of window treatments can create a world of difference to your room's aesthetic as well as functionality.
As a matter of fact, window treatments give you much room (pun intended!) to experiment and create unique looks that not only enhance the utility of a space but also add to its personality.
If you are looking for suitable window treatment ideas for any room in your home, we have some suggestions and tips to get you going.
Layer sheer curtains with blackout ones – If you want your rooms to switch between private space and openness at your command, layering of window treatments is the answer. We suggest hanging sheer panels layered with blackout ones. When you need openness, draw aside the blackout panels and let sheer ones be drawn across. When you want outside views blocked out, just draw across the blackout curtains.
Layer curtains with blinds or shades – Mount roman blinds or shades on the windows and hang curtain panels of choice in their front. As blinds and shades can be raised or lowered horizontally, you can choose the level of outside view and inflow of light. This seemingly simple window treatment strategy can add a touch of sophistication to even the simplest room.
Mix and match the curtain panels – Keeping uniformity in the color palette and scale, you can pair solid panels with geometric ones, botanical panels with striped ones, florals with polka dotted ones, plain panels with ombre ones, silk panels with tulle ones, or even embroidered panels with jacquard ones.
Mix and match your curtains to create one-of-a-kind vignettes. You can also choose different panels from a monochrome palette or you can choose a contrasting palette depending on the rest of your room. This will give your room an indelible individual stamp.
Mix and match the window treatment types – If your room has different-sized windows on different walls, try using more than one window treatment type. For example: Hang curtains on the widest window expanse. In contrast, put up a roman shade on a tall and narrow window on another wall. You can use the same fabric for both window treatments for a streamlined look. If your kitchen has windows on two walls, use a custom roman shade on one side and frilly café curtains on the other side for a handsome yet homely look.
Cover odd shaped windows in the room with custom roman shades – Are odd shaped windows – too narrow, too tall, too short, or asymmetrical – leaving you stuck for inspiration? We suggest installing outside mounted custom roman shades. The window's flaws will stay nicely hidden while enabling you to raise the shades for sunlight and air. Your room too will certainly appear more streamlined.
Let your room's statement piece be a window – Yes, even window treatments can be the statement pieces for any room. If the rest of your room is minimalist and done up in a monochromatic palette, make the window treatment dramatic. Choose bold floral curtains or a rich brocade roman shade to attract all eyes and evoke the oohs and the aahs. Do remember to not step into the overdone category though. Remember, overkill can be a vibe killer.
Make your small room look bigger than it actually is – Even a matchbox-sized room can look a bit more spacious with carefully selected window treatments. Be it limited floor area or not-too-high walls, two foolproof strategies are to hang ceiling-to-floor curtains and use vertical stripes in window treatment materials. This makes the eye move upward to give an illusion of height.
Add a valance for a romantic look – A valance is a piece of fabric that covers the top part of the curtain. Well chosen valances can add a classic or retro touch to your room. If your room décor is traditional or bohemian, valances can look gorgeous.
Trim your curtains- This will give your curtains an alluring custom look – A bit like lingerie, even the plainest of curtains can look glamorous when trimmed with a charming edging. Trim solid or geometric printed panels with bold florals. Trim delicate sheers with lace. See how they stand out.
Add tie-backs for elegant stateliness – Create a graceful style note by using attractive tie-backs to your curtains. Tie-backs look really elegant in layered window treatments. These come in a wide range of designs and materials – from silken ropes to grandma's crocheted ones to crystal-studded glamorous ones. Choose something that goes with your room's overall style statement. This idea is particularly recommended for the living room.
Highlight attractive window details – If you have a window frame worth showing off, use inside mounted custom roman shades to ensure not one inch of its beauty stays hidden. Unlike curtains, drapes and outside mounted shades, inside mounted roman shades cover only the panes and let the frame and the wall space show.
Conclusion
Curtains can become your statement pieces when chosen wisely. Whether you need to pair it with the color palette of your accent pieces or blend it with your walls to create a visual continuity will depend on the size of your room, the aesthetic or decor style you're going for. The tips and simple rules covered here are the easiest and most effective way for you to go that little extra mile and make your room look like it has been designed by an expert.