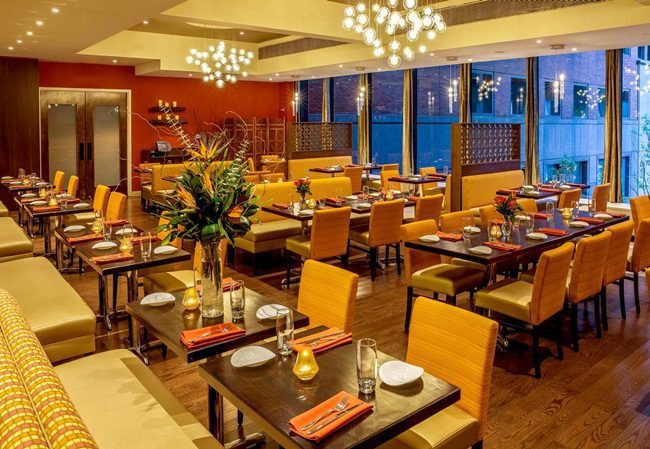 Last Updated on September 12, 2023 by
Dubai is a capital of luxurious life, expensive cars, giant malls and of course palatial restaurants. Let's explore the places where you can have delicious meals with an incredible view while traveling in Dubai.
1. Atmosphere, Burj Khalifa
This is one of the most famous restaurants in Dubai, mainly because of the view that opens from it. The restaurant is located on the 122 floor of the Burj Khalifa Tower. There usually live classical music plays, either on the harp or the piano. The cuisine of this restaurant is generally European. If you want to get to this awesome place by no less awesome way it is highly recommended for you to choose chevycar rental. Renting cars instead of using public transport can save your time and also can make you feel much more free. Rental services can offer you a great range of luxury cars. Moreover, the cost of renting a car is very low. Try it!
2. Meat & Co.
This restaurant has earned a reputation as one of the best meat exhibitors in Dubai. "Meat and Company" is a South African restaurant and it is famous for meaty meat dishes, such as meat skewers, or the famous South African sausage "boerewors". Wanna have delicious meat ? Welcome!
3. Tchaikovsky
For russian cuisine lovers Dubai's gastro range can offer Tchaikovsky restaurant. Here you will find an interesting live, music and dance performance. Every dish of russian cuisine from traditional "Borsch" to true russian "Shuba" salad. Come and taste it!
4. Zuma restaurant
Zuma is located in the heart of the city. This restaurant is one of the most modern restaurants in Dubai. It serves a modernized version of Japanese cuisine. This restaurant has a very interesting interior and atmosphere. Japanese food lovers will surely appreciate it.
5. Babel La Mer
In this restaurant Lebanese cuisine is presented from the side of fish and seafood: an abundance of shrimp, pleasant crabs, royal lobsters and other liberties. The restaurant is located in the seaside La Mer shopping mall.
6. Little Miss India
Here you will enjoy colorful colonial-style interiors. Mohini Singh is an imaginary hostess, who greets guests and treats them to very eccentric dishes. At least 12 spices are used for cooking any of the dishes. In addition to the restaurant, there is also an atmospheric lounge bar.
7. Shanghai Me
Here you will find exquisite interiors, East Asian cuisine, which seems to transfer you to Asia, you can accidentally forget that you are in Dubai. Such a nice place to make your lunch tasty and beautiful. Awesome view, delicious food, incredible vacation! Welcome!
8. Chuan
A gastronomic restaurant with a wonderful view of the Palm Jumeirah, a beautiful terrace near the water, an authentic menu with a modern presentation and excellent seafood. It is absolutely unique place to have a romantic date or to meet your business partner as well. It's big and luxurious.
9. Armani Ristorante
Finally a joy for lovers of Italian cuisine. Nice Italian restaurant at the Armani Hotel in Burj Khalifa. Very high quality Italian food. The terrace overlooks the view of the fountain, from where it can be observed outside the large number of tourists. There is no overbooking.
10. Brasserie Boulud
And finally, for lovers of French cuisine. French restaurant in New York style. The restaurant is managed by the famous master of French cuisine Daniel Boulud. Brasserie Boulud is located at the Sofitel The Obelis. High quality cuisine, amazing taste of dishes. Check it out if possible.
Apart from this, if you are interested to know about Types of Essay Writing then visit our Lifestyle category.