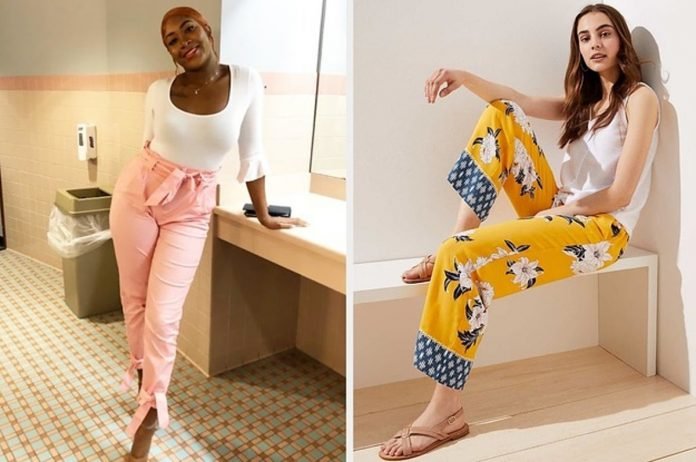 Last Updated on November 23, 2022 by
A women's wardrobe is filled with their best collection of dresses. Comparatively, the tops present in the closet are similar to the pants. A reliable set of pants is highly needed to create a fashionable look. Women's pants can give the freedom of comfort and makes the best outfit choices.
As the fashion and trends are getting advanced, there is also an increase in the list of essential pants for women. You should have enough space in your closet to store your pants set. Pants can give you confidence and comfort for the walk, while no other garment can provide it. Whether it is skinny jeans, a pair of joggers, or casual trousers, any type of pants can deliver you the utmost comfort.
Women's bottom wear is rapidly increasing in sales, and they have become the fashion statements for all women. Pants can fit all women's styles, but the combination of the pair can make your attire a fashion diva to a fashion toddler.
You need to ensure three essential things when purchasing your pants. They are as follows:
Check the fit of your pant
Make sure that the colour of the pant should complement you
Ensure that the style should match your body shape
Top 6 Trendy Pants for Women:
1. High Waist Wide Leg Pants:
In recent times, high waist pants have become one of the most trending pants for women. Various fabrics are used in the manufacture of pants, including regular cotton trousers or a denim piece with flared hems. These high waist pants are ideal for all kinds of occasions and can be used for formal and informal purposes.
2. Culottes:
Earlier in the 1930s, there was a trend of the skirt pants that have come back within the stylish form of culottes. These women's pants are versatile in style and are highly comfortable to wear for long hours. These pants are perfect with boxy sleeveless tops, structured camisoles, t-shirts, and cropped tees.
3. Straight Leg Trousers:
Straight leg pants create a bridge to fill the gap between customised formal fits and comfort. This piece of garment is how you can quickly transform from work desk to date by adding a simple set of accessories. These straight-leg pants are available in all lengths, from below the ankle to cropped under the calf.
4. Ribbed Knit Baggy Pants:
Due to the coronavirus pandemic and lockdowns, people are settled in homes and continue to do their work from homes. So, due to this, ribbed knit baggy pants have become one of the leading trends in fashion. These ribbed knit baggy pants are the most preferred choice for women who prioritise comfort over style. These pants are not only meant to wear indoors but choose a neutral colour and pair it with a dressier top for serving outdoors.
5. Joggers:
Joggers are considered a perfect suit for exercise purposes. Joggers can be paired up with tops such as a fitted cropped tee for a sporty look or a light blazer and camisole for a chic work look.
6. Sailor Pants:
Sailor pants are famous for their wide-leg construction and front and side panel buttons. These pants provide extreme comfort and add long length to your bottom half. Sailor pants can combine with tank tops, button-downs, striped shirts, and boat neck sweaters.
Bottom Line:
Choosing the best bottom half for you is now as simple as possible. Check for all types of pants and pick the unique and comfortable piece to flaunt your style this summer.
Read also: Professional Guide for Women Workout Clothes