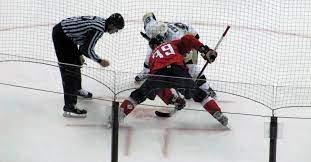 Last Updated on June 1, 2022 by azamqasim
Now we're into the NHL playoffs season, already speculation and predictions are rife about who will be victorious and pick up the Stanley Cup in June.
It could be that the favorites, Colorado Avalanche will prevail. Or it may be that the LA Kings could pull of a surprise victory, just as they did a decade ago in 2012 when they started out as the lowest-seeded team before enjoying an incredible run of success.
But, for the fantasy hockey fan, the real question is more about which individual players are going to win them the most points.
So we've looked beyond the expected high ranking names like Nathan MacKinnon, Conor McDavid and Nikita Kucherov to bring you ten less predictable selections across ten different teams.
Artturi Lehkonen – Colorado Avalanche
If they Avalanche going to live up to their favorites status then the Finn on the left wing is going to have to fly. But the signs are all there that he's ready to do just that. He's far more settled in Colorado than he ever was at Montreal with around two minutes' more ice time per match on average.
Nick Paul – Tampa Bay Lightning playoffs
Already, Paul's move to Tampa from Ottawa has started to bear fruit. His 14 points from 21 games is impressive, especially when his all-time record is 20 points. He's also got Lightning's reputation for great postseason performances to act as a foundation as well as solid partners in Corey Perry and Ross Colton.
Tylor Toffoli – Calgary Flames
The fact that Toffoli was enlisted by the Flames long before this season's trade deadline means that he has also been eclipsed by other more recent joiners. But he has collected 23 points from 37 games, eight of them from power-play. He's also a hardened playoff campaigner with experience gained reaching the final with Montreal last season.
Ryan Suter – Dallas Stars playoffs
Suter might often find himself being overshadowed by team-mates Miro Heiskanen and John Klingberg, but he's definitely one to watch. His average game time has been well over 23 minutes and he was also involved in 44% of the team's total power-play minutes. Add his seven goals and 13 power-play points and it all adds up to an impressive contribution.
Justin Faulk – St. Louis Blues playoffs
Sometimes players don't seem to get the recognition that they deserve, and Faulk is a great case in point. With 16 goals he's only fallen one short of his career high and he ranks number five for scoring defensemen. His 47 points were also only two short of a lifetime best and he has defended superbly too with a grand total of 149 hits and 101 blocks.
Anton Lundell – Florida Panthers
While a fair amount of attention is focused on the Panthers' Mason Marchment, it's also impossible to ignore Lundell. With 44 points in 65 games he's up in the top five for this season's rookie players. Illness kept him out of the game for much of March but now he's back firing on all cylinders and ready for some playoff action.
Anthony Mantha – Washington Capitals
The 27-year-old forward is a relative novice when it comes to playoffs experience and he also missed a large part of this season off with a shoulder injury. But since then he's been given a top-six role and has relished the responsibility. All he needs now is a little more power-play experience to complete him as a competitor.
Rikard Rakell – Pittsburgh Penguins
Sometimes a player can pass way under the radar if they find themselves sidelined by injury in the season. Rakell is a prime example of this. Even though he's not one of the team's leaders, he did manage to amass 13 points from a total of 19 games. Playing on the left wing with Sidney Crosby as his center, he should also be in the playoff points too.
Mark Giordano – Toronto Maple Leafs
Giordano's performances for the Leafs have surprised plenty of fans and opposing players alike, especially as a defenseman. 20 games have seen him score 12 invaluable points. This has earned him a place in the league top 20 for players in defence – above such luminaries as Adam Fox and Tyson Barrie.
Frank Vatrano – New York Rangers
Last, but not least, there's Frank Vatrano. He's another player whose move has paid dividends. When with the Panthers he averaged 12.12 minutes on the ice and now that's risen to 15.8. He's also become a regular in the second power-play unit, slotting in perfectly with Chris Kreider, Mika Zibanejad and Artemi Panarin. So expect big things from him and you won't be disappointed.
In fact, expect big things from every single one of these players and your fantasy playoffs team should be in very good shape indeed.
Read more: NHL Hockey Jersey for you and your hockey-loving friends