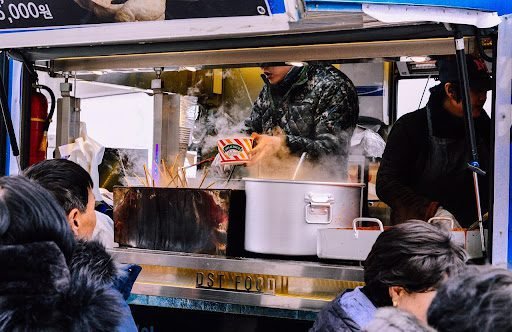 Last Updated on August 4, 2023 by
Picture the scene, you're sitting in your office in the Melbourne and you just can't think what you might fancy for lunch. You've eaten your way through most of the local lunch spots and none of them are inflaming your imagination today. That's when you see something wonderful from the window…a new food trucks parked right outside your office building!
Believe it or not, many companies look for a corporate food truck in Melbourne to come and cater for their events. That's how popular food trucks have become in Australia, but why? What's the secret to the food truck's success? Why do people get excited to see new ones arriving in their office areas?
1. Instant, Fresh, Tasty Food
The most important reason people love food trucks is that they provide us with quick, fresh, tasty food options, usually using locally sourced ingredients. The food comes fresh off the grill, or out of the oven, or fryer, or whatever tool they're chiefly using and you can even see it being prepared before your very eyes.
When you eat in restaurants or cafes, the food might taste fine, but you don't know for sure just how fresh the items are. Television shows have shown us in the past that some restaurants get away with using older ingredients in new dishes and passing them off as fresh. A food truck would struggle to do that as people see all the work happening.
2. Terrific Price Point
Next, food trucks are very affordable. Melbourne isn't a cheap city to live in. Rent, utilities, taxes and overheads are always driving up the cost of eating out in the city, even when you just want to grab a quick bite for lunch. A food truck is much cheaper to run, and the food offerings are also generally simpler, which makes for a more affordable deal than any nearby restaurant can manage. Those who want to save some money but don't prepare their own lunch at home can find a nice compromise in food trucks.
3. Food Variety and Novelty
The term "food truck" tells you nothing about what kind of food you're going to be eating, and that's yet another thing people love about them. They might be serving up some local Aussie treats, or it might be North African, Middle Eastern, Vietnamese, European, American…there's really no limit to what a food truck might offer. If a national cuisine has something portable, tasty, and quick to prepare, then it's suitable to be sold from a food truck.
Therefore, food trucks are fantastic for adventurous foodies who are always on the lookout for something new that they haven't sampled before.
4. People Love Supporting New Startups
Most food trucks are operated by plucky, young entrepreneurs, or older chefs who want to break away from an old restaurant job to make something of their own; something new, perhaps something from their ethnic or cultural background that they never got to cook in their previous job. There are many great stories behind local food trucks, and people love hearing about and supporting people starting up on their own and doing their own thing.
5. Beats the Same Chains Every Day
As we mentioned in the introduction, if you've exhausted all the local eateries, it can all start to feel a bit samey in your local area. There are only so many times in a week or a month that you can enjoy the same chain restaurants and their offerings. It's not that these places are bad, but you just want to mix things up a little!
Apart from this if you are interested to know about How to Lead a More Minimal Lifestyle then visit our lifestyle category.