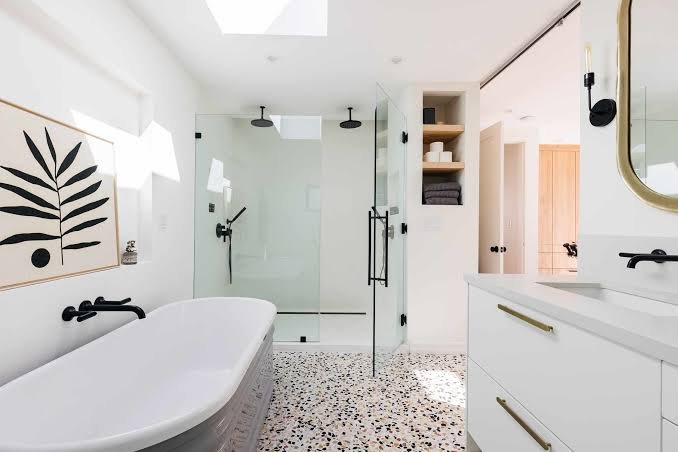 Last Updated on August 15, 2023 by asifa
We spend a significant portion of our lives in the bathroom, so it's only natural to want this space to be as stylish and functional as possible. In this article, we'll explore two essential elements that can take your bathroom from ordinary to extraordinary: bathroom sinks and bathroom mirrors. We'll also introduce you to ANZZI, a renowned brand known for its high-quality products and innovative designs of products that are perfect for your modern bathroom.
Beautiful Bathroom Sinks for a Luxurious Look
A well-designed bathroom sink can make all the difference when it comes to the overall look and feel of your bathroom. Here are a few options to consider when searching for the perfect sink:
1. Undermount Sinks: These sinks are installed beneath the countertop, providing a sleek and seamless look. Check out ANZZI's undermount bathroom sinks for a wide range of options that combine style and function.
2. Vessel Sinks: These above-counter sinks add a touch of elegance to your bathroom. With their artistic designs and various materials, vessel sinks can easily become a statement piece in any bathroom. Explore ANZZI's vessel sink collection for a variety of eye-catching options.
3. Wall-Mounted Sinks: These sinks are mounted directly to the wall, making them ideal for small bathrooms or powder rooms. They also provide a minimalist, modern appeal. Discover the stylish wall-mounted sinks from ANZZI to find the perfect fit for your space.
Mirror, Mirror on the Wall: Enhance Your Bathroom with Eye-Catching Mirrors
A well-placed bathroom mirror can do wonders for your space, making it feel larger, brighter, and more inviting. Here are some tips for selecting the right mirror for your bathroom:
1. Size Matters: The size of your bathroom mirror should be proportionate to the size of your vanity or sink. A large mirror in a small bathroom can make the space feel cramped, while a small mirror in a large bathroom may look out of place.
2. Shape and Style: Consider the overall style of your bathroom when choosing a mirror. A round or oval mirror can soften the lines of a modern bathroom, while a rectangular mirror can provide a clean, minimalist look. ANZZI's bathroom mirror collection offers a range of shapes, sizes, and styles to suit any bathroom decor.
3. Functional Features: Mirrors with built-in lighting, anti-fog technology, or storage can add convenience and functionality to your bathroom. Browse through ANZZI's innovative bathroom mirrors to find one with the features you need.
A Harmonious Bathroom Makeover with ANZZI
Achieving a cohesive and stylish bathroom design is easy when you choose products from a single, reputable brand. ANZZI offers a wide range of bathroom sinks, mirrors, and other fixtures, ensuring that you can find the perfect pieces to create a harmonious bathroom makeover. With their commitment to quality, craftsmanship, and innovative designs, ANZZI has become a go-to source for homeowners seeking to refresh their bathroom spaces.
In conclusion, updating your bathroom sink and mirror can have a significant impact on the overall appearance and functionality of your space. Explore ANZZI's bathroom sink and mirror collections to find the perfect combination that suits your taste and needs. With their wide variety of options, you can create a modern and stylish bathroom that truly reflects your personality. Don't settle for an ordinary bathroom when you can have an extraordinary one with ANZZI products.
Tips for a Seamless Bathroom Upgrade
To ensure a smooth and successful bathroom makeover, here are a few tips to keep in mind:
1. Budget Wisely: Determine your budget before starting your bathroom upgrade project. Knowing your financial limitations can help you make informed decisions when choosing bathroom sinks, mirrors, and other fixtures.
2. Measure Twice, Buy Once: Accurate measurements are crucial when selecting bathroom fixtures. Ensure you measure your available space carefully before purchasing a sink or mirror to avoid any installation issues.
3. Consider the Plumbing: When selecting a bathroom sink, consider the existing plumbing in your bathroom. Choose a sink that is compatible with your current plumbing system to minimize the need for extensive modifications.
4. Hire Professionals: If you are not comfortable with DIY installations, consider hiring a professional plumber or contractor to help you with your bathroom upgrade. This can save you time, effort, and potential headaches in the long run.
Final Thoughts
A modern bathroom is within your reach when you choose the right bathroom sinks and mirrors. By exploring ANZZI's bathroom sink and mirror collections, you can transform your bathroom into a space that is both beautiful and functional. So why wait? Start planning your bathroom upgrade today and experience the ANZZI difference.
Apart from that if you are interested to know about Minimalistic Bathroom Renovation Ideas then visit our Home Improvement category.