Last Updated on July 6, 2023 by
Portable monitors that can pair with laptops aren't a new phenomenon. However, in the past few years, they've grown to become fully independent gadgets capable of replacing just about any PC feature-wise. New portable monitors keep appearing every year, and the competition is only becoming fiercer. Desklab is a portable touch screen monitor that is designed to enhance productivity and improve work efficiency. With its sleek and slim design, the Desklab monitor can be easily carried in a backpack or briefcase, making it perfect for people who are always on the go. In this overview, we'll take a closer look at the features and benefits of Desklab. Desklab (also known or DLab) is possibly the best portable touch screen monitor on the market. Its lightweight design, compatibility, and low price certainly go in that direction. This article takes a deeper dive into the specs to explain just how powerful this monitor is.
DLab Monitor Introduction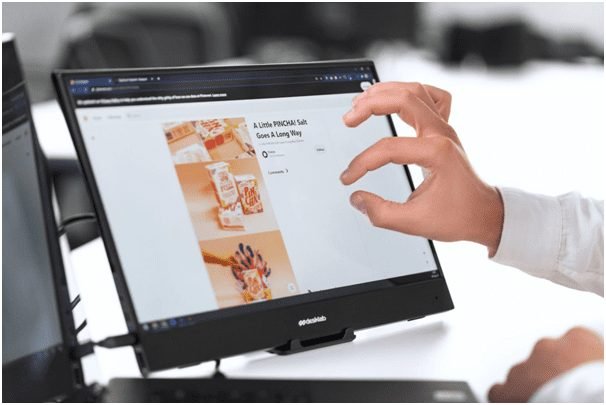 The DLab monitor is the product of a team of engineers who believed in the true power of technology. The main idea was to create a gadget with all the essential features of a regular PC but packed into a compact design.
According to the consumer reception of the monitor thus far, DLab engineers must have done a great job.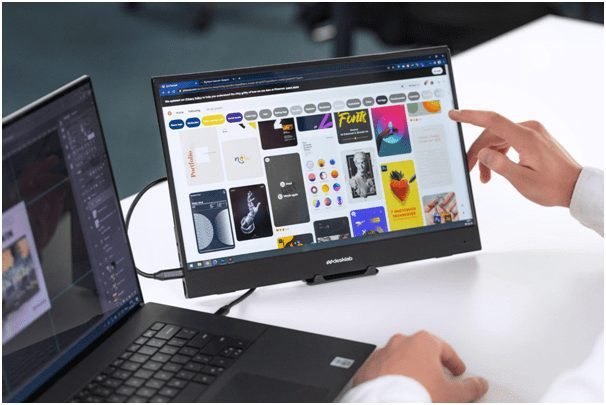 DLab Specifications
Here's a brief overview of Desklab top specifications to help you understand just how powerful this gadget is.
Design
Desklab comes in a 15.6-inch screen, is 6mm thick, and weighs just over one pound. These are tablet territories, making DLab among the most lightweight and compact monitors on the market.The Desklab monitor is a portable device that is easy to carry around. Its slim design makes it perfect for people who are always on the move. The monitor can be connected to a laptop, tablet, or smartphone using a USB-C cable, making it very versatile. It comes with a foldable stand that can be adjusted to different angles, making it easy to find the perfect viewing position.
Read More: Best 144hz gaming monitors to choose under 200$ In 2021
Screen
There are three versions of DLab: 720p, 1080p, and 4K. The beautiful screen comes with LED backlighting and is twice as bright as the competitors'. It's also powered by an ultra-responsive touchscreen made to last a while. The Desklab monitor has a 15.6-inch Full HD touch screen display with a resolution of 1920 x 1080. The screen is bright and vibrant, making it perfect for viewing photos and videos, and for doing detailed work such as photo editing or graphic design. The touch screen feature makes it easy to navigate through applications and perform various tasks.
The screen is also equipped with anti-glare, blue light, and low flicker filters to make long-term use more convenient.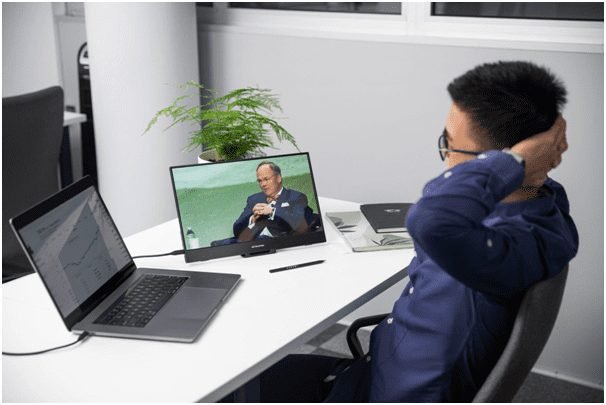 Audio
DLab is designed with built-in dual stereo speakers. Gamers or Netflix lovers can enjoy their favorite games and shows with high-fidelity audio and possibly save a couple of hundred bucks on an external speaker set.
Compatibility
This ultralight portable 4K monitor comes with universal compatibility. It works with all devices and operating systems. Windows, Mac, Android, iOS, Linux, PlayStation, Nintendo, Xbox, and other device users can instantly connect the gadget and stream content seamlessly.
Connectivity
The monitor works as a Plug and Play, meaning it's ready to display content as soon as it's plugged into a device. Regardless of the operating system or device type, the content will light up right away – no installation needed. The Desklab monitor is compatible with a wide range of devices, including laptops, tablets, and smartphones. It can be connected to these devices using a USB-C cable, which also provides power to the monitor. The monitor also has HDMI and mini DisplayPort inputs, allowing it to be used with a wider range of devices.
Portable Charger
One of the best things about the DLab monitor is that it works as a portable charger. This is welcoming news for frequent travelers or those who forget chargers at home all the time. If your phone runs out of battery, simply plug it into the monitor for a quick power boost.
Fast Response Time
DLab has a 10ms response time – just enough to provide lag and stutter-free gaming and coding experience. This is one of the main reasons gamers love DLab, which leads to the next topic.
Unparalleled Gaming Experience With DLab
DLab is often considered the best gaming monitor on the market, and for good reason. We've already mentioned the high-speed response rate that makes any online multiplayer or open-world games free from lag.
As a primary gaming monitor companion, DLab can serve as a perfect dual-monitor setup replacement. Gamers can have an easy time browsing the web, watching walkthrough videos, or doing non-game-related stuff without losing any of their gaming productivity.
Mobile gamers also benefit from DLab due to its much bigger screen size that lets them experience gaming like never before. Depending on the game type, having a broader surface to manipulate facilitates record-breaking scores and increased gamer productivity.
But DLab is not only great for gamer productivity. It also works wonders for remote workers.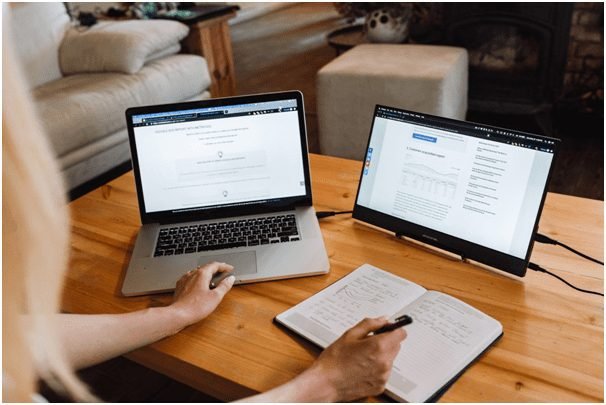 Remote Work Made Easy
Many people have adopted remote work over the past year. Sure, working from home has its perks. You're close to the kids, can snuggle the pets, take longer breaks, and whatnot. But some of the main downsides of the new working environment include reduced productivity. Other than the external factors, electronic equipment also plays a huge role here.
Those with dual-monitor setups are suddenly left with only their laptops and are still expected to get the same amount of work done. Thankfully, devices such as DLab make perfect emergency dual-monitor solutions.
Keeping up with daily workloads can be challenging, especially in the new working environment. That's why it's crucial that you do everything in your power to optimize your work hours to get the most of your potential.
Turning Smartphones Into Workstations
Many business owners rely on their phones to send emails, search for photos, perhaps fill out spreadsheets. These mundane tasks often take more time when done on small screens. The DLab monitor is a great solution to boost user productivity by improving the speed at which these tasks are done.
Plus, it's less hurtful to the eyes, especially compared to the extended use of smartphones.
Portable Monitor That Has It All
The Desklab monitor is loaded with features. Thanks to its lightweight design, enhanced screen specs, and universal compatibility, it helps graphic designers, photographers, remote workers, and gamers be more productive in their work. Finally, the fact that it's incredibly cost-effective makes it an excellent choice for dual-monitor setups.
Conclusion
Overall, the Desklab portable touch screen monitor is an excellent device that can enhance productivity and improve work efficiency. Its slim design and portability make it perfect for people who are always on the go, and its touch screen display and wide range of compatibility make it a versatile tool for professionals and creatives.
Hopefully, this article made you realize just how powerful this gadget is.
You can learn more about Desklab by visiting the official website https://dlmonitor.com.
Apart from that, if you are interested to know about DevOps Monitoring Service then visit our Technology category.