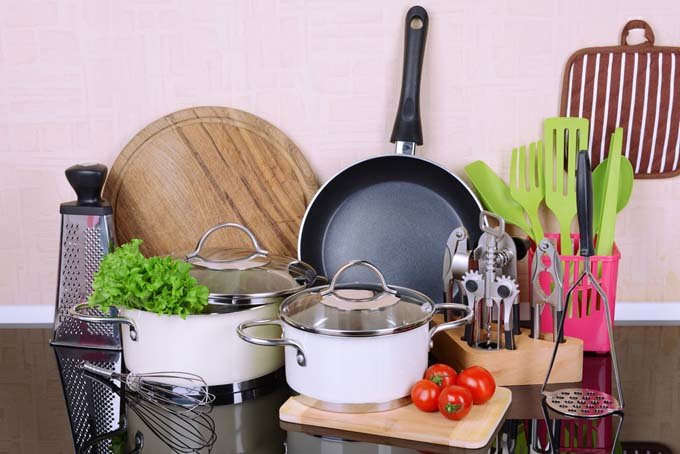 Last Updated on March 1, 2023 by
A well-equipped kitchen is essential for a successful home cooking adventure. It can make cooking and preparing meals much easier. This includes everything from pots and pans to knives and baking sheets. It's important to have a variety of sizes and types of pots and pans so you can cook everything from simple meals to more complex recipes. You also need a variety of knives so you can chop vegetables, slice meat, and make salad dressing.
By having the correct utensils, appliances, and cookware, you'll be able to create delicious meals in no time. Here are four must-have gadgets to make your life easier in the kitchen.
Small kitchen appliances:
A well-equipped kitchen needs small appliances such as a blender, food bag, pot strainer, and electric BBQ grill. A blender is perfect for making smoothies, shakes, and frozen drinks. A food bag is great for storing food in the refrigerator or freezer. A pot strainer is perfect for draining pasta or vegetables. And an electric BBQ grill is perfect for grilling steak, chicken, fish, and more.
Variety of sizes and types of pots and pans:
One of the most important pieces of equipment in any kitchen is a set of pots and pans. Pots and pans come in all shapes and sizes, so it's important to have a variety to choose from. You'll need a small pot for cooking rice or melting butter, a large pot for boiling pasta or making soup, and several sizes in between.
Pans come in different shapes as well. A saucepan is perfect for making sauces or heating up leftovers, while a frying pan is great for cooking pancakes or eggs. Having multiple sizes and shapes of pots and pans allows you to cook a wide variety of meals.
A well-equipped kitchen also needs multiple types of pots and pans. Non-stick surfaces are great for cooking eggs or fish, while stainless steel pots are perfect for braising meats.
Variety of knives:
When it comes to cooking, you can never be too prepared. That's why having a variety of knives in your kitchen is so important. You can chop vegetables, slice meat, and make salad dressing with those knives. Plus, it's always good to have a backup in case one of them gets dirty or lost.
While all knives are essential for a well-equipped kitchen, there are some that are particularly useful. For example, a chef's knife is perfect for chopping vegetables and slicing meat. A japanese paring knife is great for peeling fruits and vegetables and trimming away small areas of food. And a serrated knife is perfect for cutting bread, tomatoes, and other soft items.
So don't wait any longer – head to your nearest store and stock up on these essential knives!
Baking sheets:
A baking sheet is a must-have for any well-equipped kitchen. There are many different sizes and shapes of baking sheets, but the most common type is the rectangular sheet. Baking sheets come in different materials, but the most popular type is aluminum because it cooks food evenly. Baking sheets are also non-stick, which makes them easy to clean.
Baking sheets are used for many different things, such as baking cookies, roasting vegetables, and even making pizza. The size of the baking sheet determines how much food can be cooked at one time. For example, a small baking sheet is perfect for baking cookies, while a large baking sheet can be used for roasting vegetables or making pizza.
Baking sheets are an essential part of any kitchen because they are versatile and easy to use.
Final Verdict:
A well-equipped kitchen should have a few key gadgets. These four gadgets from https://faveways.shop/home-kitchen/ will help you cook better, faster, and more efficiently. They are essential for any kitchen. So, what are you waiting for? Go out and buy these gadgets today!
Apart from this, if you are interested to know about Round cake pans vs. springform pans: comparison then visit our Lifestyle category.