Last Updated on July 30, 2022 by rida
Every day thousands of watches are designed and manufactured to be paired for different occasions and create exclusive OOTDs. If you are someone who loves fashion but is confused about what watches to pair with which OOTD, you are at the right place! We are here to guide you on the different types of wristwatches you can pair with your OOTD to create the perfect look in no time. Let's look at the kind of watches you can pair to elevate your daily style quotient.
This SevenFriday blue silicone watch strap with skeleton watch dial is a unisex watch that suits perfectly every man and woman. The overall blue palette of the wristwatch is complemented by pops of colours like red, white and black, giving fun and fresh vibe to your OOTD.
The square analog watch with mineral glass provides the perfect sporty look. You can pair it with your casual wear, joggers or jeans and your regular t-shirts to get the easy-going yet classy look. You can also pair the watches with your OOTD for Sunday brunch with friends, movie night, and so on to easily get an energetic and active vibe.
This Amazfit unisex watch with a black dial and pink strap will definitely add fashionable appeal to women and men equally. Its cutting-edge technology makes such watches the best pair for athletic and sporty purposes like hiking, fitness, cycling, running, gymming, swimming and more. Like all smartwatches, this also has up to 50mm water resistance. Pair the unisex watch with joggers, shorts or slacks to look good even while sweating out!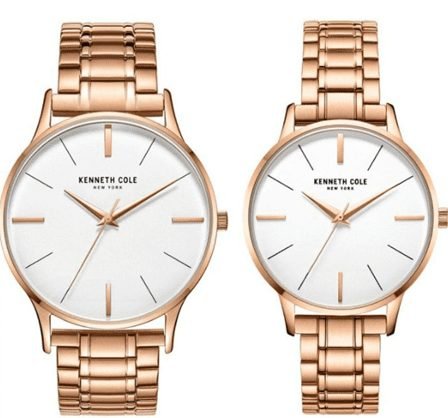 The Kenneth Cole round white couple watches with rose gold straps and detailing on the dial are ideal for showing your couple's style to the world. The couple watch is best for twining with your partner's OOTD for events where you want to stand out. The rose gold quartz couple watches can be perfect for pairing for wedding parties, cocktail parties, and birthday parties where you want to take your and your partner's look to the next level. Women can pair the watches with sarees, lehengas and shararas, while men can carry out this look with their sherwanis and tuxedos.
The Emporio Armani Couple Round White Watches are the best duo to be twinning with your partner to complement each other's OOTD. These are premium-made with stainless steel and a dazzling leather band to match you with your partner's vibe and get the ultimate power couple look. The brown leather watch straps with white marble face dial and gold hourglass detailing make the watches perfect to pair with your OOTDs for office parties, meetings and even black-tie events.
This Anne Klein round women's blue watch looks nothing short of a piece of jewellery. The stainless steel watch strap combines a blue and silver combination that beautifully complements the powder blue watch dial with silver and white detailing. The solar-powered women's watches can be paired with OOTD like business casuals, dresses, salwar suits, and any apparel. These can also be paired as statement wrist pieces letting you take centre stage wherever you go.
This women's round pink watch with pink ceramic straps by Calvin Klein helps you achieve a classy look for any occasion. The watch boasts a baby pink palette with silver detailing on the watch dial, making it perfect for pairing with your casual OOTD. The pink stainless steel watch strap with silver clasp detailing lends it a fresh and youthful appeal. You can look chic, modern and feminine, especially if you pair it with a floral skirt and matching pastel crop top. You can flaunt these watches with your OOTD at a summer picnic or a fun-day outing with your girls.
The Calvin Klein men's round watch comes with a Tachymeter giving you the classy, elegant look, making you shine a class apart in the crowd. The matching dial and the black leather strap make it a perfect choice to pair with your OOTD. The exemplary craftsmanship in this timepiece is worthy of pairing with your OOTD in casual to professional environments.
This stunning Xylus men's round silver watch will give you the desired casual look for your OOTDs, from business attire to everyday wear. The black dial with gold accents looks ultra-masculine and chic, while its leather strap sits comfortably on your wrist all day long. You can pair it with black denim jeans and a T-shirt for a streetstyle punk look or your tux to put together an OOTD for a black-tie event.
Helios Watch Store is your one-stop destination for luxury watches at unbelievable prices. Whether you are looking for wristwatches to twin with your spouse or watches to get the perfect glam vibe effortlessly, Helios is your answer to take your OOTD to a whole new level.
Read More: 2 Best Must Have Watches with Military Time for Nurses