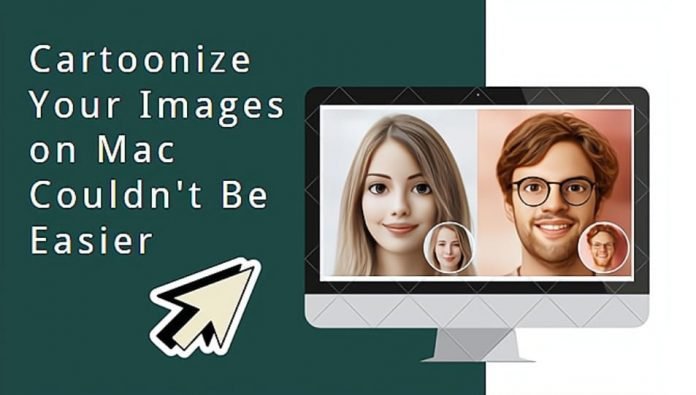 Last Updated on September 12, 2023 by
Cartoon photos have become increasingly more popular as more people switch to using digital cameras. At the same time, numerous photo cartooning apps have been developed to do fun and interesting things with the digital photos in your collection.
Though there are lots of apps that can be used on mobile devices to cartoonize photos, few of them offer services on Mac computers. Today we are going to introduce a good software to help you cartoonize yourself on Mac. And this software will be so easy to use. Even if you aren't a great artist, it's easy and fun to make your clip art to use this photo cartooizer. Keep reading.
How to Cartoon Your Face on Mac Computer?
Imagetocartoon is an online software allowing you to turn photos into cartoons with the help of artificial intelligence. You will find the online version is so amazing as long as you have a try. Not only can it converts your face into cartoon forms, but also it offers many templates. You upload a picture to the website and you get over 10 cartoon images generated by AI.
Even better, there is now a mac version of this tool. If you want to cartoonize yourself using mac software, don't hesitate to try this app. Next, we'll take you on a quick tour of the tool. Stay tuned.
Cartoonizer Mac Overview:
Cartoonizer mac is one of the best apps to cartoon yourself on a Mac computer. It transforms your images into cartoon-like drawings with the use of different effects. Not only get stunning cartoon effects, but also a cartoon editor that's turning everyone into a cartoon character. More than 40 different cartoon characters and more drawings are coming. Powered by AI technology, it cartoons your images in simpler and faster ways. Using this software, you can choose the best effects from multiple stickers and backgrounds provided. You no longer have to worry about using the same or similar cartoon avatars as others.
How to Use Cartoonizer on Your Mac Computer?
Step 1: Go to the Mac store to download the app (which is called Cartoonizer: Cartoonize Photo)
Step 2: Run Cartoonizer on your Mac and select a picture you want to cartoonize.
Step 3: Crop the original image and keep the head part focused.
Step 4: Apply different body poses and add backgrounds to the image.
Step 5: Download the image that you love most.
Pros of Cartoonizer Mac:
Cartoon yourself and photo with easy, powered by AI.
You can't deny the results, they are pretty fun.
More than 40 different cartoon characters and more drawings are coming.
100% safe to use as all your uploaded images will be cleared up
Cons of Cartoonizer Mac:
You need to download it first from the Mac store.
You need to do some actions to let AI generate cartoon images.
Pricing Plan of Cartoonizer Mac:
Cartoonizer offers three pricing plans for users' choice. See the details below:
Basic Plan:
$4.9 Day
40 Credits for One Day
Basic Cartoon Effects
Advanced Cartoon Effects
Free code for App
7/24 Support
Premium Plan:
$6 per month
100 Credits Per Month
Basic Cartoon Effects
Advanced Cartoon Effects
Free Code for AppYearly Plan
7/24 Support
Pro Plan:
$14 per month
300 credits per month
Basic Cartoon Effects
Advanced cartoon effects
Free code for an app
7/24 support
How Does Cartoonize Mac Work?
Once you upload a new photo, the program starts its work. Cartoonizer could recognize your face from a photo and allow you to cartoon yourself with one tap. Once you choose the sticker or background from the templates offered, your face will be automatically applied to these items. Powered by the latest and advanced AI technology, it has never been so easy to have a ready-to-go anime or cartoon filter and caricature maker.
Conclusion:
Cartoon Avatars have become popular these days, particularly on the internet. Cartoon Avatar Maker Apps help you to create a representation of yourself on all the social network sites like Instagram, Facebook, WhatsApp, Twitter, and many more.
From our article, you know how to cartoonize your images on a Mac computer quickly. This app is safe and free so you don't need to worry about privacy problems. Compared with many photo editing software, Cartoonizer app is easier to use and responsible for the best results. If you have any questions about the usage of this cartoon maker, just follow the official guide here. Hope Cartoonizer brings you a good user experience. 
The next list contains some alternatives to Image Cartoonizer for Mac.
Autodesk SketchBook® Express for Mac is a fun and intuitive drawing application. Get a taste of the SketchBook Pro experience with SketchBook Express. Use professional-grade tools and brushes to create and save flattened images to your Mac.
Cartoonizer instantly gives any image you can open in Mac OS X a cool, highly-stylized cartoon look. Get full control over the exact look you want by adjusting the controls in the inspector panel, allowing you to control the cartoon level…
Create your professional-looking poster instantly without hassles. Simply load a picture and "Photo to Poster Pro" will automatically convert it within seconds. You can tweak the poster/cartoon with easy-to-use controls.
With this free application, you can create cartoons, animate sketches, and pictures. The application has a built-in WYSIWYG editor.
How to Make Yourself a Cartoon on a Mac
Do you have a photo to print but want to apply a particular effect first to make it look like a cartoon or hand-painted? You don't want to waste too much time with graphic applications and you are not a photoshop expert? No problem, there are many sites on the web that you can use to turn your photos into the cartoon, comics or even to transform photos into drawings or hand-painted.
Without wasting too much time, let's go and see the best free tools to turn a photo into a cartoon online and also apply numerous other graphic effects.