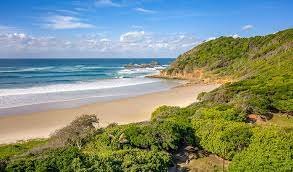 Last Updated on March 15, 2022 by azamqasim
Australia, the sixth-largest continent in the world, is one of the best places to go for vacation. It is famous for its natural wonders, beaches, and deserts. The best thing about Australia is that it has a growing economy alongside natural beauty. It is perfect when it comes to vacationing because there are over 10,000 beaches in Australia. It is also known as "The Garden State" due to its fertile and agricultural land all over. So, when you go to Australia, there are things you should not miss out on just to regret later.


Here are seven things you cannot miss on your trip to Australia


1. The Great barrier reef


You must have heard its name because it is known for being the world's largest reef. It is also one of the seven wonders of the world. Its look will make you awe because the reef is unbelievably huge and beautiful. You can also try scuba diving here, because what is better than this? You will be able to view the underwater wonders while you go scuba. In addition, the Great barrier reef has dolphins, turtles, and whales. Thus, you should never miss out on being in this place when you go to Australia.


2. Australian Music Festival


Australia is known for its many festivals held throughout the year, so when you visit Australia, you should never miss out on going to the Australian Music Festival. The biggest music festival held in Australia is Splendor In the Grass. This festival will leave you breathless and will forever stick to your memory. In addition, there are other music festivals like Lost Paradise, Wide Open Space, etc. You can simply visit any of them when you are in Australia; try not to miss out on any of them.


3. Skiing in Australia


If you have never skied in your life, you should never miss out on skiing in Australia. This continent not only has beaches and hot sun, but it also has snowy resorts where you can get your skiing experience. You can go to Perisher, and it is the largest ski place in the entire southern hemisphere. You can also choose to go to Mt Hotham, where the village is at the top of the mountain.


4. Sydney Opera House


If you love art and architecture, do pay a visit to Sydney Opera House. Its construction is exceptional and beautiful, and you will regret not going there if you don't go. There are functions held, and various cultures are celebrated. You can get to hear the best opera hits here. It is sung by the greatest singers of all time. There are illusionists' performances too, which will leave you breathless. They will show you jaw-dropping tricks.


5. Great Ocean Road


It is one of the most famous tourist attractions because of its scenic natural beauty. It will provide you with awe-inspiring views of the coast. It has many remarkable beaches as well. If you stay in a hotel, you can take night walks on the beaches. If you love hiking, you can go hiking on the Great Ocean Road as well. There are 200–300-year-old trees, and you can enjoy the fresh air of the forest. There are breathtaking rainfalls, namely Erskine Falls and The Little Aire Waterfall. You can also explore fishing if you want here; there are shrimps and salmon and squid in the Aire River.


6. Bondi beach


If you are a beach person, Bondi beach is perfect for visiting. The beach is iconic and is popular for whale watching as well as golfing. In addition, there are cafes and bars, and you can easily have a good time there with your family and friends.


7. Tasmania museum and art gallery


If you like art and history, you should pay a visit to the Tasmania museum and art gallery. It has preserved various objects of artistic and cultural display. It holds exhibitions too.


Final Thoughts


I hope our blog helps you in gaining information about these places. Australia is known for its scenic and natural beauty, which heals our souls and rejuvenates us… Visiting these places with family and friends will give you a good time, and you can have a good vacation here.
Read More: 5 of the Best Tourist Attractions in Australia Even for Locals