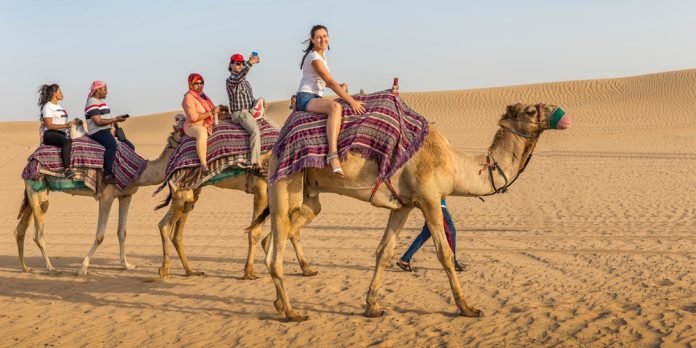 Last Updated on July 2, 2022 by azamqasim
If you're planning a trip to Dubai, the Camel Ride is an activity that you absolutely need to do! These rides are part of the desert safari, which is not offered on Fridays! Here are a few reasons why you must take a Camel Ride Dubai while you're in the city! Read on to find out how it works, as well as some other tips for the perfect ride. This activity is perfect for both adults and children.
Camel Rides Are a Must-Try Activity in Dubai
One of the most popular activities in Dubai is riding a camel. While elephant riding has recently come under fire as being cruel, camel rides are not. They are a great way to see Dubai from a different perspective, and will leave you feeling more a part of the country's culture. Here are some tips to make your camel ride a safe and memorable experience. First of all, bring your camera, sunscreen, hat, and plenty of water.
In addition to a camel ride, you can also partake in a desert safari. This will take you through a sand dune and will include a Bedouin camp. Depending on your preferences, you can also try quad biking or sand surfing. You'll be guided through the desert by a Bedouin guide, so you won't have to worry about anything.
If you have always wanted to experience the desert in the UAE, a camel ride is for you. This unique experience will give you the chance to witness the traditional lifestyle of the Bedouin people and experience the local food. You will also have the opportunity to see the sweeping desert landscape. You will have the chance to get an authentic view of the UAE and capture the real essence of its nature. You can schedule a ride for Friday and be picked up at your hotel or nearby location. Be ready at least 15 minutes prior to the scheduled time.
The camel races in Dubai are not just for Emiratis. Even camel owners from other countries participate. Tourists also enjoy this experience. The season for the main camel races is October to April, although minor races take place throughout the year. Camel races are conducted early on Fridays. Camels in the races are decorated in colourful costumes and the atmosphere is buzzing with excitement. The races are held early in the morning and are a fun way to spend a Friday.
Camel Rides Are a Part of The Desert Safari
Among the many activities that can be enjoyed during a camel ride in the desert, are sandboarding, henna painting, and belly dancing. Some tours also include a falcon show. Camel rides are safe and controlled by an experienced guide. Camel rides in Dubai are a must-do while in the city. You can also choose between a daytime or evening excursion.
A desert safari in Dubai is incomplete without a camel ride. Camels, or camel tack, are the ancient means of transportation in the desert and are considered to be the "ships of the desert" for a reason. Their ability to carry huge amounts of water and food makes them the perfect vehicle for long journeys. Camels also are an important part of the culture of the Middle East, and a camel ride in Dubai allows you to experience it from a different perspective.
Most Unique Experiences Is a Camel Ride
If you're planning to visit Dubai for the first time, one of the most unique experiences is a camel ride Dubai. It is an opportunity to experience the desert life and wildlife, as well as learn about Bedouin culture. A camel ride is a fun activity, and you can learn the proper way to ride one from an expert guide. The camels are gentle animals, so you should feel comfortable riding them.
You can also experience camel riding as part of the Dubai desert safari. The excursion may include a falconry show, belly dancing, and an ATV tour of the desert. Most camel rides are conducted in the evening, after sunset, and in the afternoon. Depending on the company, you can book a tour that is only open during certain hours. Camel rides are a memorable experience for anyone.
Camel Rides In Dubai
If you are visiting Dubai, you should consider going on a camel ride. Camels can reach speeds of 30 km per hour and are 1.5 m tall. The ride is a great way to see the city while on a camel. It is important to note that children younger than five years old are not allowed to ride camels, as they might find the experience scary. In fact, it is best to put a parent or an adult on a camel before allowing the child to sit in a camel's seat.
Although camels are infamously aggressive animals, the camels at ADCRC are gentle and friendly. You can pet them if you choose and take some great pictures. Even the curious tourists can pet camels. Camels are not ridden in a traditional saddle, so you can sit with your legs dangling, or your feet can be tightly tucked under. Camel rides are a fun way to see Dubai in a whole new light.
Camel Rides In Dubai Tours
Most camel rides in Dubai are arranged after sunset on Fridays. If you would like to take a camel ride in the desert on Fridays, you should check the schedule before you decide to go on a camel ride. The tour will be closed on this day due to Islam's fasting days, but you can still visit many places in the city on that day. You can even visit the monuments on this day, though the hours for tourist attractions and stores are shorter.
Camels were the primary mode of transportation in ancient Arabia. As they have a high capacity to carry water and food, camel rides are a great way to experience the traditional Arabian lifestyle. Even if you aren't a Muslim, camel rides are still an excellent option to learn more about the region and its traditions. Camel ride in Dubai is a great way to discover the culture of the Bedouins and witness the unique desert wildlife.
Read More: Early Morning Desert Safari in Dubai