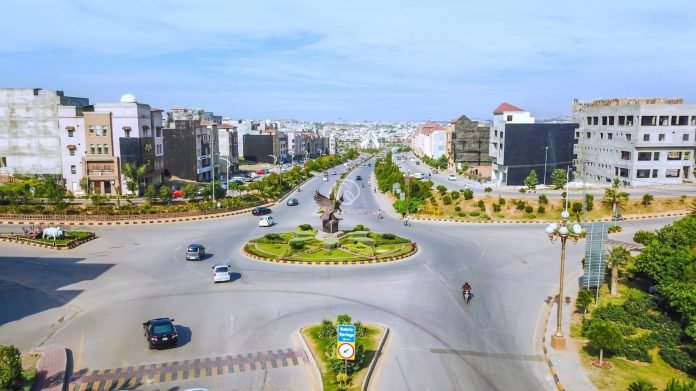 Last Updated on November 23, 2022 by
As the mammoth development program of Rawalpindi Ring Road nears completion, several significant investors have stealthily sneaked into the market in search of better real estate properties along its route. Although many housing schemes offer future connectivity via Rawalpindi Ring Route, now is the perfect opportunity to invest in developments that fully utilize this new road access.
Visit Rudn Enclave for commercial and residential plots.
Introduction:
This Ring Road project is a circular road that circles the Rawalpindi. It is among the huge development projects on the horizon, and several major investors are gearing up to find the best real estate offers along the way. Several large housing societies assert that the Rawalpindi Ring Road would provide future access. Resultantly, now is the best moment to invest in these developments, as demand and property values will rise as the Rawalpindi Ring Road develops.
The Rawalpindi Ring Road is one of Punjab's most significant and anticipated projects. It would redirect busy traffic from central Rawalpindi, but it would also enable simple and direct connectivity to the M2 highway and the New Islamabad Airport. This big highway will also open up new economic opportunities, raising the property price along its path.
Housing Schemes to Invest along Rawalpindi Ring Road:
Individual investors can take advantage of this tremendous potential by investing in housing projects that have access to or are near the Rawalpindi Ring Road. What we should no is figure out the project's specific trajectory and which societies would be the most benefited.
The following are the most highly suggested residential projects for investment near the Rawalpindi Ring Road:
BAHRIA TOWN PHASE 8 EXTENSION:
Bahria Town Phase 8 Extension, a fast-developing housing estate, might offer you some very profitable investment opportunities. The developments of Bahria Town have become popular among local and international investors because of its cutting-edge infrastructure and meticulous attention to detail. For example, Bahria Town Phase 8 Extension in Rawalpindi is meticulously designed. Even though, it is under construction, the neighbourhood has already seen a significant impact on property prices. This is due to the agreement of Rawalpindi Ring Road, which will join Phase 8 Extension to the main city.
DHA PHASE 3 ISLAMABAD:
DHA Phase 3 is a well-developed suburb near Bahria Town Phase 7. It offers some of the most expensive real estates. On the other hand, DHA Phase 3, is undeveloped and offers properties at affordable prices near Rawat. We would undoubtedly choose the new Pindi area of DHA Phase 3 for investments because the Rawalpindi Ring Road starts from Radio Pakistan adjacent to Rawat, notwithstanding the lack of growth. We can expect significantly better returns in the short run because prices are comparatively lower at this moment.
DHA Islamabad Phase 3 is considered as one of the best investment possibilities near Rawalpindi Ring Road. It is due to its excellent location and well-deserved popularity. Originally called the new Pindi Housing Scheme, this gated community was established in 2016 and is located directly across from the well-known DHA Phase 2 neighbourhood. It has two entrances, one on Main GT Road near Rawat and across from DHA Phase 2 near Giga Mall.
CAPITAL SMART CITY:
Capital Smart City is another massive housing project near the future Rawalpindi Ring Road. It is located along the Islamabad M-2 motorway and is funded by HRL. HRL is now the most quickly evolving housing complex in Rawalpindi, having employed many heavy types of machinery, engineers, and workers to meet its development goals. The Rawalpindi Ring Road Interchange is around 3 kilometres away from Capital Smart City, located on Chakri Road. As a result, it would allow easy accessibility to the M-2 Motorway through its interchange and from the Ring Road Interchange.
Even though it is the costliest housing society on Chakri Road compared to other surrounding housing projects, it has provided investors with good profits. On the other hand, Capital Smart City has the potential to return in the future.
RUDN ENCLAVE:
On Rawalpindi's Adyala Road, Rudn Enclave is a new housing development. Because the finalized route of Rawalpindi Ring Road passes through this one, and Adyala Interchange is proposed directly across from its initial entrance gate. This housing system has a remarkable position. Rudn Enclave, located near the Khasala Dam, consists of residential, business, and farmhouse properties. It has also recently established its "Executive Block" in collaboration with NESPAK. Residential and business blocks are being released at higher rates but with a far higher development plan and standards. Rudn Enclave has started construction on block A and executive blocks. Executive Block will be available for possession in two to three years, while A Block will be ready in three years.
To Sum Up:
The expansion of Ring Road Rawalpindi will undoubtedly impact the homes' pricing along its path. However, based on the area, the quantity invested, and growth stage, the proportion return on the investment can indeed be greater or lesser.
Read More: Where to invest Capital smart city or Taj Residencia?